Song Birds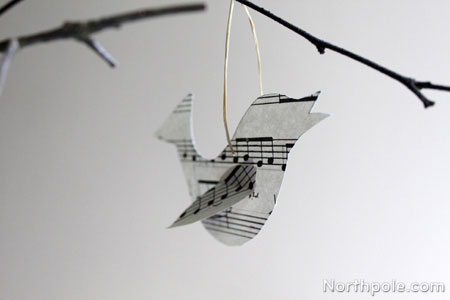 Sheet music + birds = song birds! These cute and simple ornaments could easily be made from any unwanted book, dictionary, map, etc. Thrift stores and yard sales are a great place to rummage around for sheet music or other paper because you never know what you might find. Plus, the prices can't be beat!
Supplies & Tools: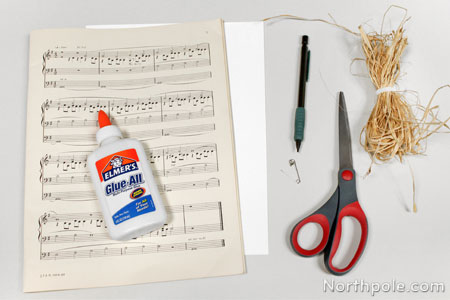 Cardstock
Scissors
Sheet music
Pencil
Raffia

Instead of raffia, you can use an ornament hook, a paperclip, or thin ribbon.

Craft glue
Safety pin
Directions:
Print out template onto cardstock and cut out pieces.
Lay pattern pieces onto sheet music and trace with pencil. Be sure to trace two wings for each bird.
Cut out shapes.
Fold wings along dotted lines.
Glue wings to each bird.
Using a safety pin, poke a hole in the bird for the hanger. Set pin aside. (Refer to the pattern pieces to determine where the hole should be.)
Poke raffia (or a hook) through the hole, tie a knot, and hang on your tree!