Skill Level:
Crafting Time:
Material(s):
Category:
Tag(s):
Share This Craft
Search Crafts
Sparkly Evergreen Card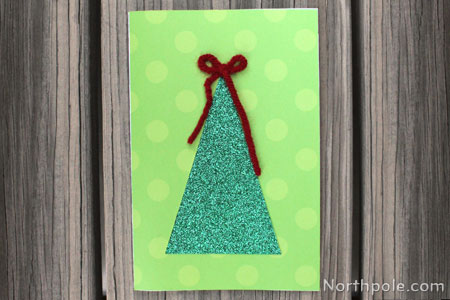 This sparkly Christmas tree card has two things that we can't get enough of during the holidays—the color green and glitter. The green polka dot background is fun and whimsical, while the triangle tree adds the glitz. The tiny bow on top has just the right amount of red to complete the card.
Supplies & Tools: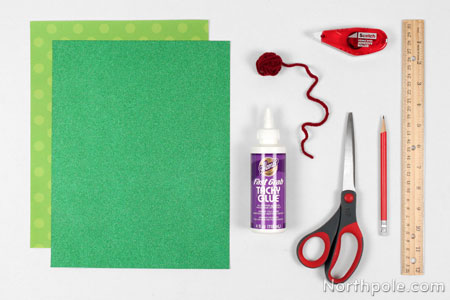 1 sheet green cardstock
1 sheet green glitter cardstock
Pencil
Ruler
Scissors
Glue runner
Aleene's Fast Grab Tacky Glue
Red yarn
Directions:
Measure and cut an 8" x 6" piece of green cardstock. Alternatively, you can make a card from white cardstock and cover the front of the card with scrapbook paper.
Fold cardstock in half, forming a 4" x 6" card.
Print the template and cut out.
Place template piece onto the blank side of glitter cardstock. Trace the tree with a pencil and cut out.
Paste the glitter tree on the front of card with the glue runner.
Cut a piece of yarn that is about 7" long.
Tie yarn in a small bow and then glue it to the top of the tree with Aleene's Fast Grab glue. Trim yarn if desired.
Write whatever you like on the front and inside to finish up your card.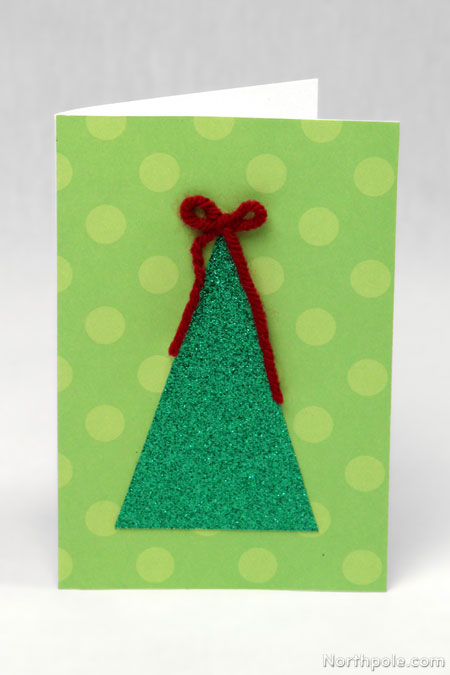 Elfy Hint:
This card will fit in an A4 envelope, and you can find A4 envelopes like these at envelopes.com.