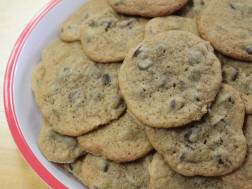 Best Chocolate Chip Cookies in the World

From the kitchen of Claudio Lewkowicz
This recipe has been on northpole.com from the beginning… since 1996! We hope you enjoy this classic North Pole recipe. Let us know your opinion by submitting a review!
Recipe Details
Ingredients
1 cup shortening
1/2 cup granulated sugar
1 cup packed brown sugar
2 eggs
2 teaspoons vanilla
2 cups all-purpose flour
1 teaspoon baking soda
1/2 teaspoon salt
1 1/2 cups chocolate chips

Directions
Preheat oven to 375 degrees

Cream together the shortening and both sugars

Then add eggs, vanilla, flour, baking soda and salt

Once the shortening, sugar, eggs, vanilla, flour, baking soda and salt mixture is all creamed together, add the chocolate chips

Mix together, well.

Drop cookie dough by teaspoonfuls onto ungreased cookie sheets

Bake for about 9-12 minutes or until golden brown.
Reviews
Log in now to rate this recipe.

Deandra0923 says:
Yum my favorite
12/24/2016 8:00:59 AM

maksmaj says:
YUUUUUUUUMMMMMMMMMM!!!!!!!!!!!!!!!!!!!!!!!!!!!!!!!!!!!!!!!!!!!!!!!!!
11/7/2015 9:12:38 PM

fotoenia says:
I don't use Chocolate chips. But instead using Cadbury Dairy Milk (Milka) with Daim caramel pieces.
4/4/2014 10:51:26 AM

epeterson00 says:
AMAZINGGGGG
12/24/2013 3:42:24 PM

BDSTARK says:
YUM YUM YUM YUM!!!!!!!!!
12/17/2013 8:43:13 AM

Collettmom says:
YUM YUM YUM!!!!!!!!!!!!!!!!!!!!!!!!!!!!!!!!!!!!!!
12/13/2013 9:08:38 PM

Randolphsaid says:
yummy,yummy,yummy,yummy,yummy,yummy,yummy,yummy,yummy,yummy,amazing!!!!!!!!!!!!!!!!!!!!!
12/6/2013 6:09:43 AM

emmabuis says:
Its So Yummy
11/30/2013 1:18:00 PM

430493442 says:
Best thing my class Loved it my class and I are going to have a party and I am going to make this :)
7/1/2013 5:20:30 PM

Stephanie123 says:
These cookies were AMAZING!!! My family loves them!
6/27/2013 2:52:58 PM

flipflop3 says:
they was very good
12/23/2012 8:50:36 PM

Emmyj123 says:
it need a bit of work it is a bit to chocolate for me but it could be ok for other people thank you bye
12/22/2012 12:26:23 PM

pickles1211 says:
Amazingly awesome!! Best cookies ever (except Grandma's=D)
12/17/2012 4:03:06 PM

pook4321 says:
so yummmmmmmmy i will die
12/16/2012 5:25:28 PM

01362536 says:
OH MY! these cookies are the best there sweet and yummy thanks Mrs.Claus i'm cooking these for Santa Clause every year and he should love them.
12/16/2012 3:25:45 PM

anslee9 says:
best
12/15/2012 1:27:50 PM

cutie909 says:
i think they rock
12/11/2012 2:53:02 PM

Mary says:
These are so yummy!
12/10/2012 9:52:41 AM

emma1234 says:
it so sweet and yummmmmmmy.
12/2/2012 11:42:06 PM

RheebzieRocks says:
Ate all of them in 1 go!!!!
11/30/2012 2:07:52 PM

megan_portelli says:
It was just delicious I couldn't resist taking one every day!!! Good job Mrs.Claus for the recipe!!!! :)
11/20/2012 11:25:41 AM

kay10 says:
yummmmmmmmmmmmmmmy
11/17/2012 7:36:36 AM
Other Tasty Treats You Might Enjoy
Cookies
American Cookies
Drop Cookies