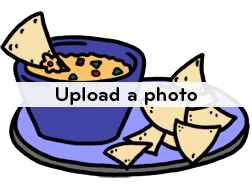 From the kitchen of lauren20171016
A delicious twist on ordinary meatballs for the holidays.
Recipe Details
Ingredients
2 bags of frozen meatballs
One jar of grape jelly
One bottle of ketchup
Dash of Worcestershire sauce
Salt and pepper to taste

Directions
Mix grape jelly, ketchup, and Worcestershire sauce in a crock pot on high.

Mix frozen meatballs in sauce.

Cook for 50 minutes to let sauce soak in flavors, although it is not required for this long. At the minimum, cook at least until meatballs are soft and hot.

Serve immediately or save for leftovers.
Reviews
Log in now to rate this recipe.

LesasGoodies says:
Iíve used a similar recipe only using Little Smokies instead but the meatballs would be more filling. The only difference in my recipe is it uses Chili Sauce, which is NOT spicy just a different taste. The bottles are usually 12 oz and you use an equal amount of grape jelly.
11/19/2019 12:24:00 PM
Other Tasty Treats You Might Enjoy
Appetizers
Italian Appetizers
Hot Appetizers