A Beach… at the North Pole?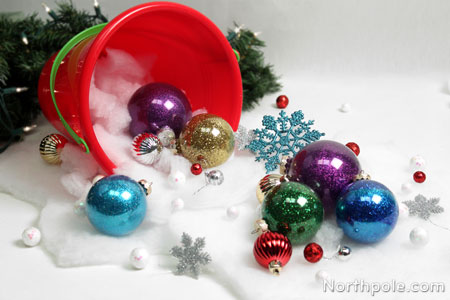 Where can you find snow spilling out of beach buckets? At the North Pole! This is the Arctic beach where snowman can sunbathe and NOT melt! You can also find an Arctic beach in your home… if you make this centerpiece, of course!

The easiest way to recreate this centerpiece is to use or buy the buckets, batting, pompoms, and ornaments of mixed sizes. If you want to get a little craftier, you can make your own glitter ornaments (click here for instructions). Want to stick to a monochromatic Christmas theme, perhaps? Or maybe just shiny silvers and golds? Whatever direction you want to take this craft, enjoy it and make your own Christmas in July centerpiece.
Supplies & Tools: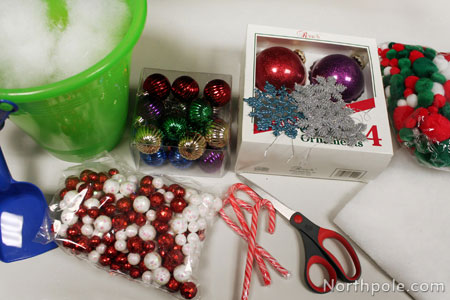 Bucket with shovel
1 yard high loft batting
White pompoms (or cotton balls)
Red or green pompoms
Mini ornaments: stars, balls, snowflakes
Bowl & vase filler (tiny sparkly foam balls)
Candy canes
Scissors
Marker (optional)
White copy paper (optional)
Snowflake paper punch (optional)
Directions:
Lay batting on flat surface. Lay bucket on its side on top of batting to get an idea of what size piece is needed. Use marker to draw a patch of snow around the bucket, if desired. I just eyeballed it, so that I didn't have a trail of marker ink after I cut the piece out.
Set bucket aside and cut along the outline you drew. Cut bumps or waves around the edges, if you like.
Cut a smaller piece of batting that will be the snow spilling out of the bucket.
Cut any scraps of batting into 1-inch squares or circles. The squares can be little ice cubes and the circles, little snowballs.
Use the snowflake paper punch to create dainty snowflakes from white copy paper.
Arrange on the table in this order: large piece of batting; bucket on its side; small piece of batting, slightly inside bucket; large ornaments; smaller ornaments; and snowflakes.