Layered Food Labels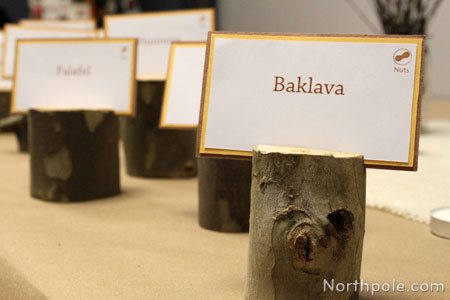 Labels add a nice finishing touch to your holiday spread and are a great way to tie all your decor together. It is increasingly common to see labels on prepared foods if they contain allergens. Due to the dietary concerns of my guests, I created icons to indicate whether a dish was vegetarian, contained halal meat, or contained nuts. Other useful labels might include Kosher, dairy, shellfish, etc. 
Supplies & Tools:
White cardstock
2 different colors cardstock (or construction paper)
Rubber cement
Metal ruler
X-Acto
Cutting mat
Directions:
Download the Word template (.doc). Open file and change text and font as desired.  Print on white cardstock. Each label measures 3.5″ x 2″.
Place cardstock on cutting mat. Cut out labels using metal ruler and X-Acto. Set aside.
For the middle layer, cut pieces that measure 3.625″ x 2.125″.
For the back layer, cut pieces that measure 3.75″ x 2.25″.
Arrange pieces in order from smallest to largest and use rubber cement to glue in place.
After the rubber cement dries, they are ready to use.