Wooden Card Holders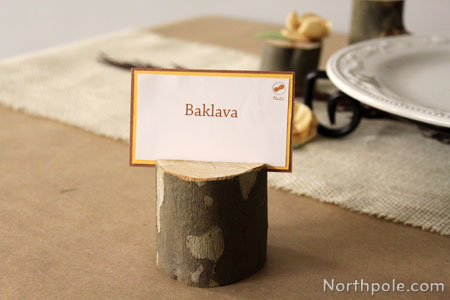 Delightfully simple, these pieces of wood are a nice addition to your party's decor. Use them to hold place cards, food labels, photos, whatever you can think of! I collected my branches from a neighbor who had recently pruned a tree.
 Supplies & Tools: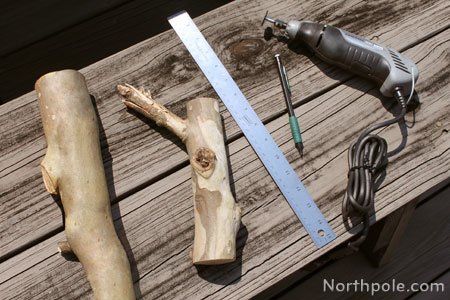 Tree branches, about 3–4″ diameter
Saw
Workbench
Safety goggles
Dremel or similar power tool
Pencil
Ruler
Directions:
Gather branches, tools and safety gear. Decide how many pieces you want to make.
Put on safety gear.
Use saw per manufacturer's directions and cut branch into chunks. I cut my branches in to different sizes. Some are short (2″) and some are tall (4″) and lots in between.
Note: If you do not have the necessary equipment, find a friend to help! A fellow elf in Santa's Workshop helped me cut the branches into chunks.
Secure a piece of wood in the workbench and/or a vice.
Draw a line on top of each chunk using a pencil and a ruler.
Use Dremel per manufacturer's instructions and with the appropriate attachment. Follow the line you have just drawn and cut a line using the Dremel.
Do not press too hard at first; let the Dremel to the work. (If you apply too much pressure, you may break the cutting piece.)
Once the line has been cut roughly, you can go back over the line with the Dremel to clean up any edges.
Test the wood with a small piece of paper (such as a business card or index card) and set it in the cut of each wood piece. If the paper is tilted you know you need to cut a little more.
Once you are finished cutting, rinse and dry all the wood chunks.
Now you are ready to use the card holders!