Skill Level:
Crafting Time:
Technique(s):
Material(s):
Category:
Share This Craft
Search Crafts
Coiled Paper Tree Ornament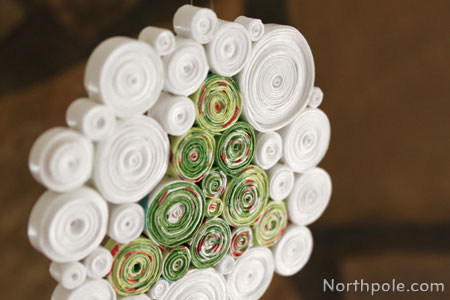 This ornament is comprised of many tight paper coils made using a quilling tool. Each coil looks like a little tree cookie—quite apropos for the tree design! Rolling the coils isn't an exact science; your coils may be larger or smaller depending on the thickness of your paper and how tightly you roll them. This ornament takes a few hours to complete, so crank up your Christmas carols and whistle while you work!
Supplies & Tools: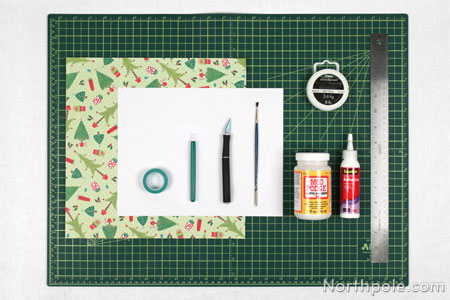 6 sheets white copy paper, 8.5" x 11"
1–2 sheets green paper (We used 1 sheet of 12" x 12" scrapbook paper. Patterned paper works great!)
Cutting mat
X-Acto
Metal ruler
Quilling tool
Glue (Scotch Quick Dry Adhesive works really well)
Matte Mod Podge
Paintbrush
Masking tape
Directions:
Print the template and set aside for reference.
Cut paper into 0.25" strips.
Note: If you are using scrapbook paper that only has the color/pattern on one side, see the Elfy Hints below.
Roll the paper into tight coils. See this Quilling 101 article for step-by-step instructions on rolling tight coils with multiple strips of paper.
Note: The diameter of each coil depends on how tight you roll it. You can print the template to see how many strips we used to make each coil.
Mark off a 4" square on your cutting mat with masking tape. (Washi tape works well, too.)
Arrange the coils in the square to make sure everything fits together well. Rearrange as needed until you're happy with it. Add some tiny coils to finalize the design, if needed. (We added a few tiny coils to fill the gaps and added a few more around the outside to help give the ornament a more rounded shape.)
Optional: Take a picture with your phone or camera to remember how all of the coils were arranged. We found that the coils didn't fit exactly the same once we started gluing.
Begin gluing the coils together.

Start with the tree in the center.
Next, glue white coils to the tree. It helps to start at the upper right side of the tree and work your way around the tree.
Continue adding coils around the tree, adding the largest coils first before filling in with the small coils.
Sometimes the coils don't seem to fit together exactly the same once you start gluing, so rearrange the coils as needed. (This might be a good time to take a peek at the photo you may have snapped at step 6.)
Allow to dry completely.

Coat both sides of the ornament with 3 coats of matte Mod Podge, allowing it to dry in between coats.
Add a string through a hole between a couple coils and hang the ornament on your tree!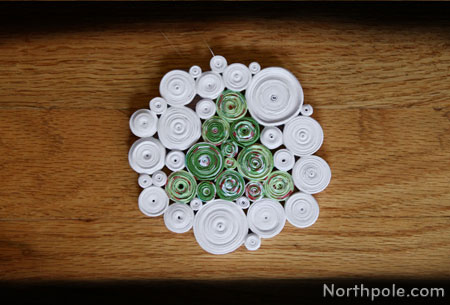 Elfy Hint:
If you want to use scrapbook paper that is printed on one side, cut paper into 0.5" strips and then fold in half lengthwise. Insert the cut ends in the quilling tool (not the folded side) and roll into a tight coil. The folded paper behaves differently than a plain ol' paper strip. If/when the paper buckles, simply pleat the paper so that the folded edge remains constant.
Ideas from the Elves:
Use different prints of scrapbook paper to make the tree look textured.
Mix food dye into the Mod Podge to color individual coils.
Use sparkle Mod Podge for a twinkling ornament.
Make a simple coaster by using same sized coils in alternating colors. Seal with clear acrylic spray paint.