Skill Level:
Crafting Time:
Material(s):
Category:
Tag(s):
Share This Craft
Search Crafts
Handmade Marbled Cards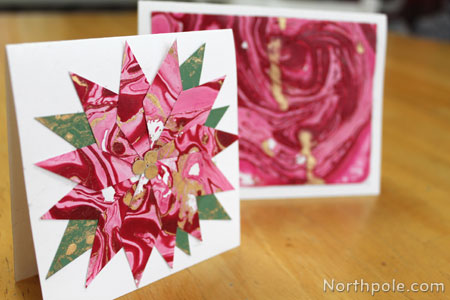 Make your own paper for crafting special holiday cards! We used enamel paints to create the marbled swirl effect on cardstock for this unique look. The abstract flower is a nice alternative to the classic Christmas poinsettia. For the other card, we added glitter along with the swirls of the print. Make each card unique by experimenting with different types of paper.
Supplies & Tools: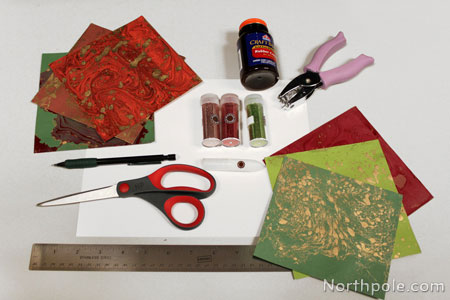 White cardstock
Green paper
Scissors
Ruler
Pencil
Rubber cement
One-hole punch
Craft glue with a fine tip dispenser
Fine glitter
Abstract Poinsettia Card
Directions:
Cut out a piece of cardstock to desired size. We cut a piece of paper that is 4" x 8" and folded in half to make a 4" square card.
Cut diamond shapes out of the red decorative paper. On the back of the marbled paper, draw lines that are 3/4" apart. Then draw diagonal lines to create diamond shapes.
Cut out 8–12 diamonds. These are the petals.
Cut out 6 diamonds from green paper. These are the leaves.
Cut a circle about 2" in diameter. It does not need to be exact since it will be hidden once the card is finished.
Begin gluing petals on the circle, slightly overlapping. Continue adding petals until flower is complete. Let dry.
Glue leaves on the back of the flower. Let dry.
Glue flower onto the front of the card.
Use a one-hole punch to cut out some gold dots from marbled paper. Glue dots to flower. If you would rather not use this approach, you can use craft glue and glitter for the dots in the center of flower.
Let dry completely.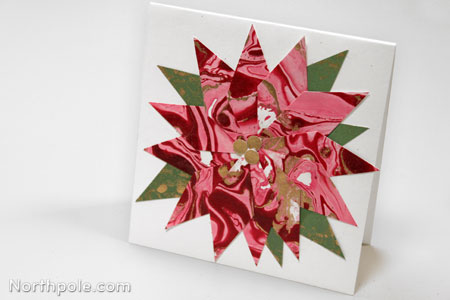 Swirly Glitter Card
Directions:
Measure and cut a piece of white cardstock that is 6" x 8".
Fold in half to make a 4" x 6" card.
Measure and cut a piece of marbled paper that is 3.5" x 5.5".
Use rubber cement to glue marbled paper onto the front of white card. Let dry for a couple minutes.
Now use craft glue to draw thin lines, following the lines of the marbled swirls.
Sprinkle a fine-grit glitter over the glue.
Shake off excess glitter and return to container.
Let card dry completely.
Now your card is ready to use.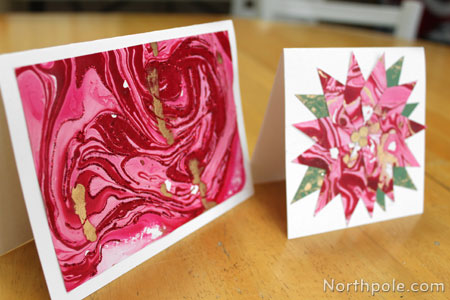 Elfy Hint:
This card will fit in an A4 envelope, and you can find A4 envelopes like these at envelopes.com.