Skill Level:
Crafting Time:
Technique(s):
Material(s):
Category:
Tag(s):
Share This Craft
Search Crafts
Poinsettia Place Cards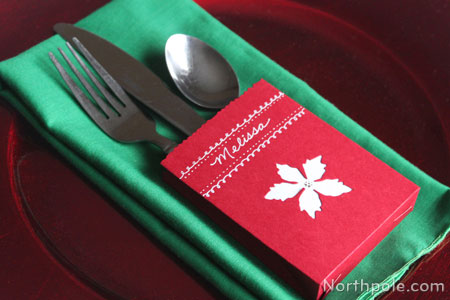 Disclosure: This article is sponsored by Sizzix®. They provided us with the Sizzix machine and dies used in this craft. All words and opinions are our own. For our full disclosure, click here.
If you're looking for a different take on a place card, this little flatware baggie is just the ticket! The red paper with a touch of white makes these place settings feel cozy and Christmassy with just the right amount of handmade charm. At the end of the party, you could even drop a cookie in each bag and send your guests home with a treat to go!
Supplies & Tools: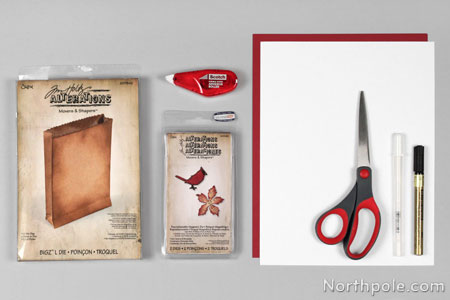 Sizzix® Big Shot Plus Machine & included Cutting Pads*
8.5" x 11" deep red paper (or cardstock)
8.5" x 11" white paper (or cardstock)
Scissors
White Gelly Roll® pen
Gold Sakura Pen-Touch® paint marker, extra fine point
Permanent Scotch® Adhesive Dot Roller
*We used the Big Shot Plus machine, however, you can use the regular Big Shot machine to accomplish this craft.
Directions:
Place the small poinsettia die inside the "window" of the In The Bag die.
Fold red paper in half widthwise and place it on the die.
Place the die/paper between two cutting pads and roll this "sandwich" through the Sizzix machine to die-cut the bags.
Gently lift the bags off the die and set the scraps aside. Although it may seem like the paper surrounding the poinsettia die is stuck, just gently lift one side at a time, loosening the paper from the die. Set one of the bags aside.
Using the poinsettia cutout as a guide, cut a white square that is larger than the flower.
Using the adhesive dot roller, glue the white square onto the bag, covering the poinsettia cut out.
Flip the bag over and use the gold paint marker to draw dots in the middle of the poinsettia.
Using the white Gelly Roll pen, draw 2 dotted lines that are about 0.5" apart. Use the straight edge of the scrap as a ruler to help you draw the dots in a straight line.
Draw a squiggly, curly line above and below the dotted lines.
Write the name of your dinner guest between the lines.
After the ink is dry, fold the crease lines and then glue the tab on the long side to the side opposite it.
To close up the bottom of the bag, fold the small side tabs in first, then the U-shaped flap, and finally, tuck the remaining tab into the opening of the U-shaped flap.
Repeat all steps to make as many place cards as you need.
Now your place cards are finished! As you're setting the table for your dinner party, place one of these darling baggies on a charger and then insert flatware inside. Use green napkins for a classic Christmas colored table setting.