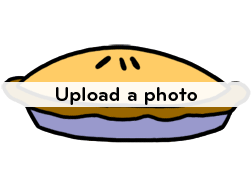 From the kitchen of catiemiller
My Grandmother makes it for me every year.
Recipe Details
Prep Time:
Bake Time:
Total Time:

20 minutes
10 minutes
30 minutes

Tags:
Quick & easy
Ingredients
2 cups milk or half and half
1 stick butter or margarine
1 cup sugar
1/2 cup cornstarch
1 teaspoon vanilla extract
1 baked pie shell

Directions
Preheat the oven to 350 degrees F.

Mix the milk, butter, cornstarch and sugar in a hot pan.

Cook until thick and then add the vanilla.

Pour into the pie shell and bake for 10 minutes.

Remove from oven and cool for 10 minutes. You might burn yourself if you don`t wait for it to cool down.
Reviews
Log in now to rate this recipe.

catiemiller says:
This Resipe is probley the best pie I have ever had.I would so tell you to try it.
12/18/2013 6:03:18 AM
Other Tasty Treats You Might Enjoy
Pies
American Pies
Cream Pies