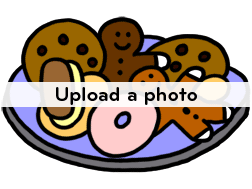 From the kitchen of bsmatter
This recipe has been on northpole.com from the beginning… since 1996! We hope you enjoy this classic North Pole recipe. Let us know your opinion by submitting a review!
Recipe Details
Ingredients
1 jar (10 ounce) maraschino cherries (42-48)
1/2 cup butter or margarine
1 cup sugar
1/4 teaspoon baking powder
1/4 teaspoon baking soda
1 egg
1 1/2 teaspoons vanilla
1/2 cup unsweetened cocoa powder
1 1/2 cups all-purpose flour
1 package (6 ounce) semi-sweet chocolate pieces (1 cup)
1/2 cup sweetened condensed milk or low-fat sweetened condensed milk

Directions
Preheat oven to 350 degrees F.

Drain cherries, reserving juice. Halve any large cherries.

In a medium mixing bowl beat butter with an electric mixer in medium to high speed for 30 seconds.

Add the sugar, baking powder, baking soda, and 1/4 teaspoon of salt.

Beat until combined, scraping sides of bowl.

Beat in egg and vanilla until combined.

Beat in cocoa powder and as much of the flour as you can with mixer.

Stir in remaining flour using a wooden spoon.

Shape dough into 1-inch balls.

Place balls about 2 inches apart on an ungreased cookie sheet.

Press your thumb into the center of each ball.

Place a cherry in each center.

Bake for 10 minutes or until edges are firm.

Cool 1 minute on cookie sheet.

Transfer to a wire rack and let cool.
Frosting:
In a small saucepan combine chocolate pieces and sweetened condensed milk.

Cook and stir over low heat until chocolate is melted.

Stir in 4 teaspoons reserved cherry juice.

Spoon 1 teaspoon frosting over each cherry, spreading to cover (frosting may be thinned with additional cherry juice if necessary).
Note: Do not substitute imitation chocolate pieces.
Reviews
Log in now to rate this recipe.

Aandune says:
I loved the cookie and will be making them again. I however didn't care much for the frosting. Next time I will make ganache with cream rather than sweetened canned milk.
12/16/2014 11:55:44 AM

Sally49 says:
Very good cookie for the holiday's
12/6/2012 9:07:05 AM

oldbegonia says:
I entered these in a friendly but competitive Cookie Exchange and won Best Cookie!
12/4/2012 5:02:56 PM
Other Tasty Treats You Might Enjoy
Cookies
American Cookies
Molded Cookies