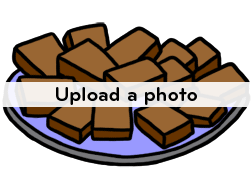 From the kitchen of Debra Simpson
This recipe has been on northpole.com from the beginning… since 1996! We hope you enjoy this classic North Pole recipe. Let us know your opinion by submitting a review!
Recipe Details
Ingredients
2 pounds powdered sugar
1 can sweetened condensed milk
1/2 cup (1 stick) butter, melted
1 teaspoon vanilla
3 small jars of cherries
1 package almond bark chocolate

Directions
Drain the cherries in a colander, saving some of the juice for any left-over cherries.

Line 3 to 4 cookie sheets and/or baking pans with wax paper.

Mix the powdered sugar, condensed milk, melted butter, and vanilla in a large mixing bowl.

When the mixture begins to form a dough, then mix by hand (this helps get the lumps out of the powdered sugar).

Pinch off a small amount of dough.

Press the dough into a circle slightly smaller than your palm.

Take one cherry and roll the dough around it.

Place the wrapped cherry on the wax paper lined cookie sheet or baking pan.

After all the dough is gone, place them in the freezer for about an hour.

Melt the chocolate (according to the directions on the package) in a medium mixing bowl.

Remove the cherries from the freezer.

Dip the cherries in the chocolate and replace them on the cookie sheets.
The easiest way to accomplish this is to drop a cherry by hand into the chocolate and use two forks to roll it around, making sure it is entirely covered with chocolate; then remove from the chocolate with forks and place on the cookie sheet. If desired, place the cookie sheets back into the freezer and leave for about 10 minutes to harden.
Reviews
Log in now to rate this recipe.

Kim1974 says:
Delicious!!!!
9/22/2016 7:26:49 PM

MooLou says:
This recipe is the best homemade I have ever had. My youngest son he always liked the liquid ones, but he will eat these, which I make at Christmas and Easter. Now my oldest son wants a gift box to share with his girl friend and J's Creamy Fudge. Thank you so much for posting this website!
12/5/2014 11:33:47 PM

jans says:
I have used this recipe for years, but substitute almond flavoring for the vanilla. I also found cherries with the stem are much easier to dip or for the ones without a stem, I use an egg dipper(from coloring easter eggs) that I modified slightly. works great. I also buy chocolate melts from a candy store and they harden in minutes.
12/22/2013 8:00:45 AM

pjandkdcozza says:
I altered this by adding a 2nd stick of butter and didn't use almond bark. I drained the cherries and froze them overnight on parchment paper to make them easier to work with. I used Ghiradelli 60% cacao (22 oz.) and 2/3 slab of Gulf Wax melted in a double boiler. Once covered in chocolate, I placed on parchment paper and froze again. This recipe covered 72 cherries.
12/10/2013 8:56:19 PM

kathyjames005 says:
I have made these before and they are time consuming but well worth the work..
5/18/2013 10:49:09 AM
Other Tasty Treats You Might Enjoy
Fudge and Confections
American Fudge and Confections
Chocolate Treats