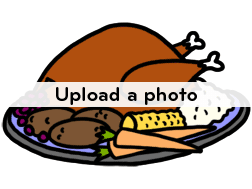 From the kitchen of CRFA
This recipe has been on northpole.com from the beginning… since 1996! We hope you enjoy this classic North Pole recipe. Let us know your opinion by submitting a review!
Recipe Details
Ingredients
1 package taco shells
1 pound ground turkey
1 can (8 ounce) tomato sauce
1 green chili diced
1 medium onion, diced
1/2 red pepper (seeded and diced)
1 large tomato, diced
little bit of shredded lettuce
1/4 cup sour cream
1/4 cup salsa
1/4 cup pepper jack cheese, shredded
1/4 teaspoon cayenne
1/4 teaspoon Mexican chili powder
1/4 teaspoon hot sauce
1/2 teaspoon salt
1 tablespoon canola oil
1/4 teaspoon red chili flakes

Directions
Preheat oven to 350 degrees.

Dice green chili, tomato, onion and red pepper.

Put oil in large pot and then add onion and red pepper cook until soft.

Add ground turkey and cook until meat is no longer pink.

Add green chili and salt, and spices. Add tomato sauce.

Simmer meat and veggies with the sauce a few minutes.

Heat taco shells in 350 degree oven for 5 minutes or until shells sweat a little bit.

Take shells out of oven and assemble tacos.

Put cooked meat, sour cream, lettuce, salsa, diced tomato and Pepper Jack cheese into shells.
Note: Add more spices or tomato, lettuce, sour cream, salsa, or pepper jack cheese if desired.
Reviews
Log in now to rate this recipe.

louloulita123 says:
YUM
3/23/2014 6:23:40 AM

jj234 says:
more salt
11/3/2013 6:45:23 AM
Other Tasty Treats You Might Enjoy
Main Dishes
Latin American Main Dishes
Meat Dishes