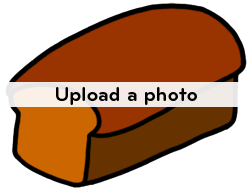 From the kitchen of VanderMayGreen
Has some options for increased health benefits.
Recipe Details
Prep Time:
Cook Time:
Total Time:

45 minutes
60 minutes
1-3/4 hour(s)

Tags:
Gluten‑free
Ingredients
3 large eggs
2-1/4 cup warm water
1 tsp. vinegar
1/4 cup oil
2 cups rice flour
1/2 cup potato starch flour
1/2 cup tapioca flour
1/3 cup cornstarch
1 T. xanthan gum
3 T. sugar
1-1/2 tsp salt
2/3 cup dry powdered milk
1 pkg yeast

Directions
Place warm water in bowl, add yeast, sprinkle with sugar and then powdered dry milk. Add vinegar and oil. Sift together flours and xanthan gum, add about half of this to wet ingredients and mix with electric mixer. Stir in remaining flour mixture.

Pour into a greased 9"x5" bread pan and let rise for about 30 minutes.

Bake in a 350 degree preheated oven for about 50-60 minutes. May cover with foil last 15 minutes. Remove from oven and turn out on cooling rack. Brush with butter while hot. Cool and slice. Best toasted.

Options: May use 9 T. flaxmeal and 1T. oil in place of the 1/4 cup oil. May also add 2 extra egg whites and 2 T. coconut flour for more fiber. This option ends up with more dough so can about 3 dinner rolls in a smaller loaf pan.
Reviews
Log in now to rate this recipe.

Virgie1958 says:
Wonderfully light. Great for toast.
11/19/2017 6:15:11 AM
Other Tasty Treats You Might Enjoy
Breads
American Breads
Yeast Breads