Skill Level:
Crafting Time:
Material(s):
Category:
Tag(s):
Share This Craft
Search Crafts
Fun & Festive Headbands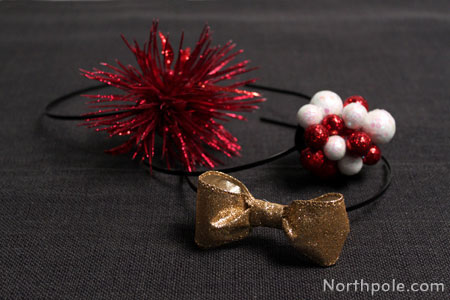 These merry hair accessories will have you in the holiday spirit in no time. They are pretty simple to make—all you need is a headband, hot glue, and whatever embellishments you want. Use our examples as inspiration, and have fun creating your own!
Supplies & Tools:
Headbands
Sparkly foam balls
Christmas picks (artificial flowers & foliage from the craft store)
Ribbon, 1.5" wide
Scissors
Hot glue gun & glue sticks
Felt, cut into 1.5" circles (you'll need 2 felt circles per headband)
Wire, pipe cleaner, or twist-tie
Optional: X-Acto & cutting mat
Basic Directions:
If using flowers/foliage, cut to desired length.
Glue flowers/foliage or other topper onto one felt circle, which is the base.
Once you're happy with how your design looks, decide where you want to glue it on the headband (or hair clip).
Gather the decorated base, another felt circle, headband, and hot glue gun.
Apply glue to the back of the decorated felt, and apply to headband.
Working quickly, apply more glue to the headband, and then press the other felt circle over the glue. Press gently.
Allow the glue to cool, and then your headband is ready to wear!
Sparkly Bauble Directions: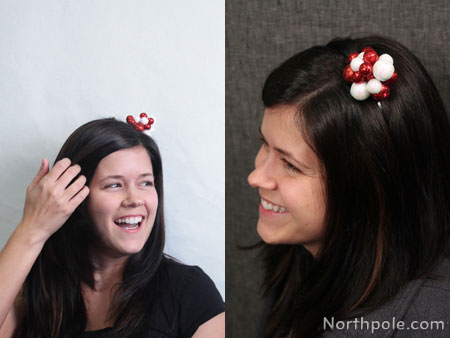 Glue sparkly foam balls together however you like. We find it helpful to make a base by gluing a cluster of three balls and then add balls (mixed sizes) to fill in spaces. Be mindful to make yours wider at the bottom and smaller at the top.
Optional: Use an X-Acto to cut balls in halves or wedges to fill in awkward spaces.
Once you're done building your foam structure, glue a felt circle to the back of it.
Now glue to your headband. (See basic instructions above.)
Sparkly & Spiky Christmas Foliage Directions: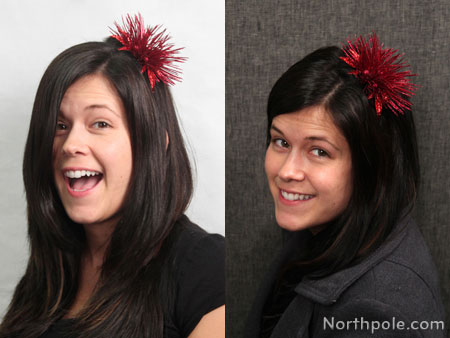 Cut Christmas foliage to desired length. Where you cut the foliage depends on how you want it to look. For the piece in the center, we cut the stem completely off, so it will stand straight up. Since the remaining pieces lie on their sides around the center piece, leave some stem to help hold it down.
Begin gluing foliage to a felt circle.
Continue gluing pieces until your design is complete.
Glue to headband. (See basic instructions above.)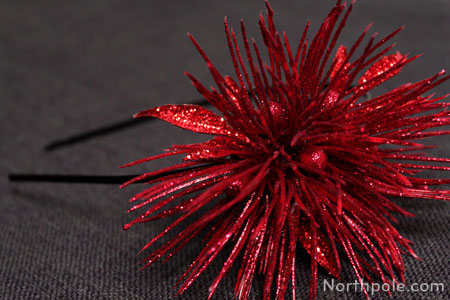 Glittery Gold Bow Directions: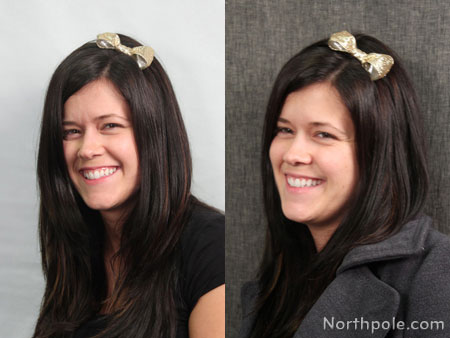 Cut a piece of ribbon that is 9.5" long.
Cut a piece of wire that is 6" long and set aside.
Form a loop, overlapping the edges by about 1". Our ribbon is wired and pretty stiff since it's covered in glitter. Therefore, we folded the end of the top piece under to hide the ends of wire and to give it a finished look.
Grab the ribbon that is opposite the overlapping edges to form 2 loops. Adjust the ribbon to make sure both loops are the same length.
Pinch the center of the ribbon and wrap tightly with a small piece of wire. (It does not really matter how the wire looks, because it will be covered up when finished.)
Trim excess wire and make sure the cut ends are folded down, so they don't poke you when you hold the bow.
Cut another piece of ribbon that is 2.5" long. If ribbon has wired edges, remove the wire from this piece.
We like to test how we're going to wrap the ribbon before we actually glue it down. That way we can make any adjustments such as trimming the ribbon, repositioning it, etc. Scrunch the ribbon and wrap around the center of the bow. This glitter ribbon does not scrunch very well, so we folded the sides of the ribbon under.
Glue one end of ribbon to the headband.
Now glue the bow to the headband, wrap the ribbon around the bow, and glue the end of the ribbon down.
Note: Before gluing the end of ribbon down, fold the ribbon edge over and glue to itself. This will give you a clean and finished look (similar to what we did in step #3).
Fluff your bow, and now your glam headband is ready to wear!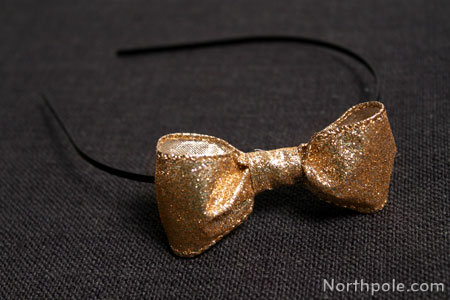 Elfy Hints:
If using wired ribbon, fold the ends over about 0.5".
If using non-wired ribbon, don't worry about folding the edges. Instead, seal the edges with a flame.
Ideas from the Elves: