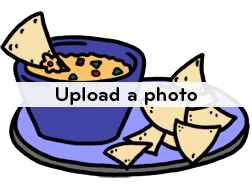 From the kitchen of MiaAschenbeck
So much fun to make with your kids!
Recipe Details
Ingredients
Chocolate Chips
Oatmeal
Glitter

Directions
Put oatmeal and chocolate chips in a bag. Shake well.

Add glitter to the bag.

Zip the bag and shake very very well.

Sprinkle on lawn for the reindeer.
Reviews
Log in now to rate this recipe.

abi2204 says:
i have made it before it was so fun....but i think no chocolate chips! Four stars bc it doesnt need chocolate chips :)!!!!!!!!!!!!
11/16/2014 3:38:07 PM

evanna2003 says:
EWW!! so not fun!!!!
12/29/2013 6:42:06 PM

Wendysway says:
The oatmeal and choc chips sound okay, but chocolate is death to some animals (dogs/cats - possibly deer?) and glitter is like Christmas tree "icicles" which are not recommended for animals intestines - maybe oatmeal and (not raisins/bad for animals) seeds so birds can enjoy too!
12/19/2013 5:35:51 PM
Other Tasty Treats You Might Enjoy
Appetizers
American Appetizers