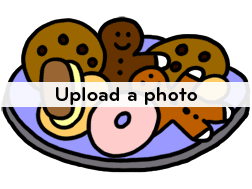 From the kitchen of Mary Katherine Wainwright
This recipe has been on northpole.com from the beginning… since 1996! We hope you enjoy this classic North Pole recipe. Let us know your opinion by submitting a review!
Recipe Details
Ingredients
1/2 cup (1 stick) butter or margarine
2 cups sugar
3 heaping tablespoons cocoa or 2 squares chocolate, melted
1/2 cup milk (skim milk can be substituted)
3 cups dry oatmeal
1 teaspoon vanilla extract
1 cup pecan pieces (optional)

Directions
Spray a pan with non stick cooking spray.

Melt butter slowly.

Add sugar, cocoa and milk.

Stir occasionally while the mixture comes to a boil.

Once the mixture comes to a boil, stir and boil the mixture for 3 minutes.

Remove from heat.

Add vanilla extract and stir mixture.

Quickly add the oatmeal (and nuts if using) and stir.

Drop by spoon onto greased cookie sheet or waxed paper and allow to cool uncovered.

Refrigerate cookies after 5 minutes.
If using the butter substitute, increase dry oatmeal to 3 1/2 cups to help thicken the mixture.
Reviews
Log in now to rate this recipe.

TJN says:
I like this recipe much better than the common, tiresome one made with peanut butter. Tried replacing sugar with Splenda; next time, I'll use half sugar/half Splenda to try to counter that off taste that Splenda gives desserts.
6/17/2021 3:44:45 PM

Benibo says:
I made these and used 1 cup of Splendia and 3 1/2 cups of oatmeal. Everyone enjoyed them. Simple and easy to make. Will be making more of these but going to add peanut butter.
12/12/2012 5:02:59 AM

AMETHYST says:
THIS RECIPE IS VERY STICKY TASTES JUST OK VERY SWEET I HOPE THESE COME TOGETHER A BIT MORE ONCE COOLED IN THE FRIDGE. THESE WERE EASY BUT NOT REALLY WHAT I WOULD CALL CHRISTMAS COOKIES SORRY I DID ADD PECANS TO IT.
11/30/2012 12:48:58 PM
Other Tasty Treats You Might Enjoy
Cookies
American Cookies
No-bake Cookies