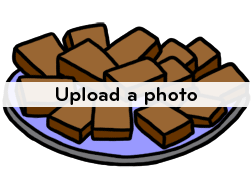 From the kitchen of Denise Smith
This recipe has been on northpole.com from the beginning… since 1996! We hope you enjoy this classic North Pole recipe. Let us know your opinion by submitting a review!
Recipe Details
Ingredients
1 cup (2 sticks) salted butter (no substitutions)
1 cup sugar
1 tablespoon light corn syrup
1 1/2 cups cashews (whole, halves or pieces - salted or unsalted)

Directions
Line a baking sheet with a lightly buttered piece of waxed paper, set aside.

In a heavy medium sized saucepan, heat the butter, sugar and corn syrup on medium low heat.

Stir occasionally and heat until temperature reaches 290 degrees on a candy thermometer (about 30 minutes).

Take pan off heat and stir in cashews.

Pour mixture out onto the waxed paper lined pan, and spread the candy out across the pan.

Let it cool in the pan for 10 minutes, then in the fridge for 5 more minutes before peeling off the waxed paper. Break into bite sized pieces and store in an airtight container.
Reviews
Log in now to rate this recipe.

TCheque says:
it was ok. My children, however, were literally sitting on the ceiling. i'm not sure if they liked it. I gave some to my neighbors and they loved it
10/14/2016 9:11:52 AM

cravencmhs says:
Easy @ Yummy!
11/23/2012 9:39:00 PM

nblibrary says:
I made this as part of a candy tray last year to give to neighbors. This was so delicious I had a hard time giving it away!
11/4/2012 9:00:00 AM
Other Tasty Treats You Might Enjoy
Fudge and Confections
American Fudge and Confections
Brittle