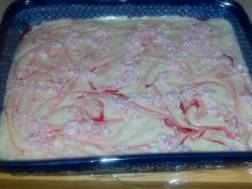 Candy Cane Fudge

From the kitchen of telecomm
This recipe has been on northpole.com from the beginning… since 1996! We hope you enjoy this classic North Pole recipe. Let us know your opinion by submitting a review!
Recipe Details
Ingredients
1 package vanilla milk chips
1 can Pillsbury Vanilla Creamy Supreme Icing
1/2 teaspoon peppermint extract
4 drops red food coloring
2 Tablespoons of peppermint candy canes (chopped)

Directions
Put vanilla chips in pan on the stove at medium heat.

Continue stirring until the chips have melted.

Add icing to pan and continue stirring.

Take off heat and add peppermint extract until dissolved.

Pour mixture into a pan.

Take food coloring and add one drop in each corner of pan.

Take butter knife and begin stirring until the food coloring has been swirled into the fudge.

Add chopped peppermint pieces to top of fudge.

Cover the pan with plastic wrap and place in the refrigerator until the fudge has hardened.

Cut into small pieces.
Reviews
Log in now to rate this recipe.

LisaD13 says:
This is yummy my kid love it. you know sometimes when you make a recipe your kids aren't appreciative of my wonderful cookings. but with this recipe my kids finally like me. Sometimes kids can be a pain in the butt. My little baby pug is named Murphy. Yes I was talking about my dog Murphy.
11/17/2013 9:42:59 AM

ashlee says:
i love this recipy
11/8/2012 9:54:51 AM
Other Tasty Treats You Might Enjoy
Fudge and Confections
American Fudge and Confections
Fudge