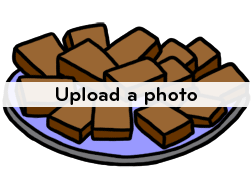 From the kitchen of Kiki
This recipe has been on northpole.com from the beginning… since 1996! We hope you enjoy this classic North Pole recipe. Let us know your opinion by submitting a review!
Recipe Details
Ingredients
4 cups sugar
4 1/2 cups water
2 teaspoons lemon juice
11/4 cups cornstarch
1 teaspoon cream of tartar
1 1/2 tablespoons Rosewater red food coloring (optional)
1 cup confectioner's sugar

Directions
Oil a 9-inch square pan. Line with plastic wrap and oil the plastic wrap.

In a heavy saucepan over medium heat, combine the sugar, 1 1/2 cups water, and the lemon juice.

Stir until the sugar dissolves and the mixture boils.

Reduce the heat and simmer gently, without stirring until the mixture reaches the soft-ball stage (240 F on a candy thermometer). Remove the pan from the heat.

In a second large heavy saucepan over medium heat, stir together 1 cup cornstarch and the cream of tartar. Gradually stir in the remaining 3 cups of water until no lumps remain.

Stir constantly, until the mixture boils and is a thick, gluey paste.

Slowly pour the hot sugar, water, and lemon juice syrup into the cornstarch mixture, stirring constantly. Reduce the heat and simmer, stirring often to prevent sticking, for about 1 hour, or until the mixture has become a pale golden color.

Stir in the rosewater and tint as desired with food coloring.

Pour the mixture into the prepared pan and spread evenly.

Cool the room temperature and let stand, uncovered, overnight to set.

Sift the confectioners sugar and the remaining 1/4 cup cornstarch onto a large cutting board.

Turn the Turkish Delight out and cut into 1-inch squares with an oiled knife. Roll pieces in the sugar mixture to coat well.

Store in an airtight container with sheets of waxed paper, dusted with the sugar mixture, separating every layer.
Reviews
This recipe has not been reviewed. Log in now to rate this recipe.
Other Tasty Treats You Might Enjoy
Fudge and Confections
Eastern European Fudge and Confections
Divinity & Nougat