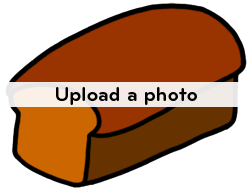 From the kitchen of VanderMayGreen
Converted to Gluten-Free. Great for grilled sandwiches or for pizza crust.
Recipe Details
Prep Time:
Cook Time:
Total Time:

45 minutes
60 minutes
1-3/4 hour(s)

Yields:
Tags:
9"x5" loaf
Gluten‑free
Ingredients
2 T. or 2 pkgs. yeast
1/2 cup warm water
4 T. sugar
2 cups cottage cheese heated to lukewarm
2 T. minced onion
2 T. butter
4 tsp. dill seed
2 tsp. salt
1/2 tsp. soda
1 T. xanthan gum
2 eggs
3-1/4 cup gluten-free flour (mix listed below)

Gluten-Free Flour Mix:
3 cups rice flour
1 cup potato starch flour
1/2 cup tapioca flour

Directions
Soften yeast in warm water then sprinkle with sugar.

After a few minutes add remaining ingredients except only 2 cups of the flour, mix with electric mixer. Then stir in remaining flour by hand.

Turn into a well greased 9"x5" bread pan. Let rise about 30-40 minutes.

Bake in a preheated 350 degree oven for 50-60 minutes, covering last 15 minutes with foil.

Remove from oven and turn out on cooling rack. Brush top with butter while hot. Cool and slice. Best toasted or grilled.

Option for pizza: Make recipe excluding dill seed. Spread into a large cookie sheet that has sides and has been greased. Prebake in a 425 degree preheated oven for about 15 minutes or until beginning to lightly brown. Remove from oven and top with pizza sauce and favorite toppings. Return to oven and bake another 10-15 minutes or until cheese is melted and just starting to brown.
Gluten-Free Flour Mix:
Sift together and store in air-tight container.
Reviews
Log in now to rate this recipe.

Virgie1958 says:
Made an excellent crust for pizza and a marvelous grilled sandwich.
11/19/2017 6:17:26 AM
Other Tasty Treats You Might Enjoy
Breads
American Breads
Yeast Breads