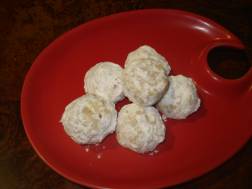 Butter Nut Balls

From the kitchen of Charlotte Chambliss
This recipe has been on northpole.com from the beginning… since 1996! We hope you enjoy this classic North Pole recipe. Let us know your opinion by submitting a review!
Recipe Details
Ingredients
1 cup butter
1/4 cup sugar
2 cups flour
1 tablespoon vanilla
1 1/2 cups pecans, finely chopped
powdered sugar

Directions
Preheat oven to 300 degrees F.

Cream butter thoroughly.

Add remaining ingredients except powdered sugar.

Roll into balls about walnut size.

Place on ungreased cookie sheet and bake for 35 minutes.

Roll in powdered sugar immediately and cool on waxed paper.
Cookies may be made in advance and frozen.

Reviews
Log in now to rate this recipe.

lewcookielew says:
If you like these, you can also try the Russian Teacakes that bake hotter and quicker. I prefer them a bit smaller than 'walnut' size. One inch diameter maximum is a good size.
1/4/2016 10:17:17 PM

Kelseyrosspet says:
I LOVE THEM AWESOME
12/13/2013 5:37:30 PM

snowbabies2 says:
I made these and took them to school. They were a big hit. Grammy Becky
12/5/2013 7:04:13 PM

Pattypup says:
I have made these cookies SO many times. I'm always asked to bake them for bake sales during the year. I've found that mixing the batter with your clean hands is best, rather than with a spoon. Mine have never been dry. I only bake them for 32 minutes. I always roll them twice in the powdered sugar...once when they're still pretty hot and then later after they've cooled off some. They are a very tender cookie, so you have to be careful to handle them delicately.
10/30/2013 1:27:35 PM

Miaah says:
Recipe was easy to follow, just found that the cookies are a little dry. Next time I'll add a little more butter. Still worth making.
12/17/2012 2:33:30 PM

cmccormick37 says:
I love this receipe, I add mini semi sweet bits.
12/2/2012 2:40:48 PM
Other Tasty Treats You Might Enjoy
Cookies
American Cookies
Molded Cookies