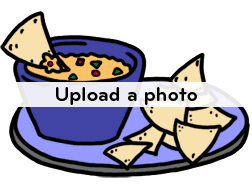 From the kitchen of Kimberly Loveless
These are very attractive, as well as delicious!
Recipe Details
Ingredients
1 package (block type) cream cheese, softened
1 jar dill pickle spears, OR
1 large bunch scallions
1 package sliced ham (rectangle type)

Directions
Spread cream cheese over ham slice.

Starting at short end of slice for pickle, or long end for scallion, place vegetable at edge and roll up tightly. Then slice into 1/2 inch rounds.
Reviews
Log in now to rate this recipe.

hamjud says:
This recipe is perfect just the way it is. You know the saying "dont knock it till you try it" well I've taken this appitizer to several parties and its always a hit. Very addictive.
8/16/2013 3:44:22 PM

irisraine says:
I'm amazed to find this recipe on this site..this its a recipe I picked up as a child of just 8 and have quickly became tradition with me save my children as well so simple and tasty have never tried it with scallions though..that's different I like them very much just the way they are...but I use whole pickles and cut them mmmm talking about them are making me want some NOW lol
4/28/2013 9:16:31 PM

IFortuna says:
Pickles and onions for a crowd? Maybe not. It sounds good but I think most people would avoid this. Try mixing some horseradish with the cream cheese and spreading it on the ham and rolling it up. Taste test to avoid adding too much horseradish as it is very strong. Sprinkle with a bit of herb if you like. Fresh dill is a great addition.
12/12/2012 11:55:04 PM
Other Tasty Treats You Might Enjoy
Appetizers
American Appetizers
Finger Foods