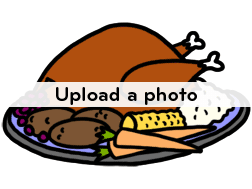 Roasted Chicken and Gravy with Holiday Stuffing
From the kitchen of CandiceS1985
My own self-created recipe
Recipe Details
Prep Time:
Bake Time:
Total Time:

20-25 minutes
70-80 minutes
2 hour(s)

Yields:

Several portions

Ingredients
1 thawed roaster chicken between 6–8 lbs
1 tsp minced garlic
1/4 cup finely minced onion
1 1/2 tsp onion powder
1 tsp garlic powder
1 tsp minced basil leaf
1 tsp ground sage
1/2 tsp pepper
1/4 tsp salt
1 stick of butter, melted

Holiday Stuffing
2 boxes any seasoned stuffing
12–14 whole cranberries (substitute 1/4 cup cranberry juice)
1 apple, diced (substitute 1/4 cup apple juice)
2 cups water
1 stick butter
1/4 cup finely minced onion
6 pre-cooked Banquet Brown N Serve sausage links, finely chopped
1/2 tsp salt
1/4 tsp pepper
1/4 tsp minced basil leaf

Directions
Thaw roaster chicken overnight in the fridge. For quicker thawing, submerge wrapped frozen chicken in room temperature water for 2–3 hours)

Remove roaster chicken packaging, and wash chicken well. Pat dry with paper towel.

Pre-heat oven to 475 degrees.

Melt 1 stick butter in a microwave safe bowl or stove pot. Pour a tiny bit into bottom of roaster pan or baking dish and completely coat bottom of pan. Add washed and dried roaster chicken into the pan. Take remaining butter and pour all over the chicken.

Take onion powder, garlic powder, sage, pepper, salt, and lightly coat the whole chicken. Then add minced basil leaf, minced garlic, and minced onion on top of chicken.

Place chicken in oven at 475 degrees for 30 minutes. Lower temperature to 375 degrees and bake for 40–50 minutes more.

Remove chicken from oven. Let cool 5–8 minutes and transfer to another pan or plate. (The juices in the pan used to cook the meal will be for gravy so do not throw them out.)
Holiday Stuffing
(This step comes after roaster chicken has been removed from oven.) Boil water, butter, apples (or juice), and whole cranberries (or juice). Add onion powder, salt, pepper, and basil into the boiling water. Boil until apples become firm or ingredients looks well blended and all butter has melted.

Remove pot from heat, and add stuffing to the pot. Mix in cooked chopped sausage and cover 5 minutes.

Place stuffing in a baking dish and bake on 350 degrees for 15–20 minutes or until it's a little crispy on the top.

Take out of oven and cover with aluminum foil.

For the gravy, drain juices from pan into a large cup. Wait 5 minutes for grease to come to the surface. Remove as much grease as you can.

Pour gravy into a deep frying pan on medium heat to medium low heat and add 1 cup water. As it starts to bubble add 4 tablespoons all purpose flour, salt, pepper, and onion powder to taste. Cook for 5–8 minutes or until gravy thickens.
Reviews
Log in now to rate this recipe.
Other Tasty Treats You Might Enjoy
Main Dishes
Other Main Dishes
Meat Dishes