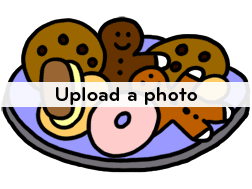 From the kitchen of Dayna Cosby
This recipe has been on northpole.com from the beginning… since 1996! We hope you enjoy this classic North Pole recipe. Let us know your opinion by submitting a review!
Recipe Details
Ingredients
1 cup butter, softened
6 tablespoons sugar
2 cups flour
3/4 cup ground almonds
1/4 vanilla bean

Directions
Preheat oven to 250 degrees.

Grind the almonds and the seeds from vanilla bean (split and scrape) in a blender or food processor.

Mix all ingredients together in the order they are given.

Shape cookie dough into half moons and place on un-greased cookie sheet.

Bake for 1 hour.

Let set over night and then roll them in powdered sugar.
You can replace vanilla bean with 1 teaspoon (or more to taste) of pure vanilla extract. You do not need to add it to the ground almonds, just add it to your mix.
Reviews
Log in now to rate this recipe.

scgef says:
My greatgrandmother emigrated from Kehl Germany back in 1883 and this cookie was an integral part of the 7 or 8 recipes handed down to me. It is my favorite. However, I would add this note: buy freshly shelled almonds, soak for an hour or so until plump. Peel the brown skin off and discard. Let nuts dry on paper towels and grind through an old fashioned (table top/clamp-on) grinder. This keeps the particles uniform in size and preserves the oil that gives the cookie it's flavor. My Mom handed down the recipes and none had mixing ingredients but I've made them in balls and 1 1/2 inch flat
12/11/2017 6:09:14 PM

Tisha5 says:
This was a recipe given to my mother by her German mother-in-law and passed down to me and my daughter's. Grandma made them with ground almonds but we have perverted the recipe to make them with chopped walnuts for the crunch. Either way, they're absolutely delicious.
5/21/2017 1:37:26 AM
Other Tasty Treats You Might Enjoy
Cookies
Eastern European Cookies
Molded Cookies