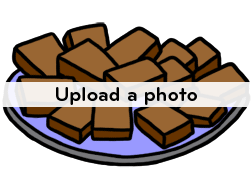 From the kitchen of Summer T.
This recipe has been on northpole.com from the beginning… since 1996! We hope you enjoy this classic North Pole recipe. Let us know your opinion by submitting a review!
Recipe Details
Ingredients
1 1/2 cups (3 sticks) butter
6 cups sugar
2 cans evaporated milk (5 ounce cans)
2 packages (12 ounces each) semi-sweet chocolate chips
1 jar (13 ounce) marshmallow cream
2 teaspoons vanilla

Directions
Lightly grease 2 or 3 pans.

Mix margarine, sugar, and milk in heavy 4-5 quart sauce pan.

Bring to full rolling boil on medium heat, stirring constantly.

Continue boiling 5 minutes on medium heat, stirring to prevent scorching.

Remove from heat.

Gradually stir in chips until melted.

Add remaining ingredients and mix well.

Pour into prepared pans.

Cool at room temperature and cut into squares.
Reviews
Log in now to rate this recipe.

jenniesimmons says:
Fabulous! been making it for several years now and everyone goes crazy for it!! No fail!
12/14/2013 10:30:53 AM

Shelly310 says:
Been making this fudge for the past 5 years, and everyone loves it.
10/13/2013 9:37:43 AM

mizzmacky says:
I have been making this recipe for the last 4 years every Christmas, everyone loves it, it's not grainy when you eat it, it is really easy to make and it is delicious!!!!! Everyone in my family asks every year now if I am making fudge and if I am, can I make extra!!!!
11/20/2012 3:08:29 PM

melissa767 says:
you should add nuts to it.
11/16/2012 7:55:54 PM
Other Tasty Treats You Might Enjoy
Fudge and Confections
American Fudge and Confections
Fudge