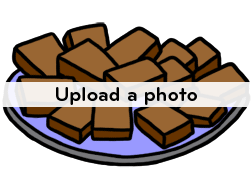 From the kitchen of Erica Wilson
This recipe has been on northpole.com from the beginning… since 1996! We hope you enjoy this classic North Pole recipe. Let us know your opinion by submitting a review!
Recipe Details
Ingredients
1 pound powdered sugar
1/2 cup cocoa
1/4 teaspoon salt
1/4 cup milk
1 tablespoon vanilla extract
1/2 cup (1 stick) butter or margarine
1 cup chopped nuts

Directions
Mix all dry ingredients together in a 8x8 inch microwave safe pan (important to use this size pan).

Add milk and vanilla extract.

Place chunk of butter/margarine in center (leave butter whole, do not chop up). Microwave on high for 2 minutes until bottom of dish feels warm.

Stir vigorously and blend in chopped nuts.

Put in mold or whatever and chill for 1 hour.
Note: Use real butter for best results.
Reviews
Log in now to rate this recipe.

simijohal2006 says:
It was delicious
12/22/2015 4:40:37 AM

Dkhender says:
Yummmmmmmmmmy!
12/24/2014 10:05:36 PM

Xmasmonster says:
Very good nuts are too much.... good without any nuts
11/27/2014 9:10:38 AM

amyelf says:
amazing!
12/9/2013 5:34:41 PM

louloulita123 says:
yummmmmmmmmmmmmmmmmmmmmmmmmmmmmyyyyyyyyyyyyyyyyyyyyyyyyyyyyyyyyyyyyyyyyyyyyyyyyyyyy
6/15/2013 12:07:29 PM

susanv says:
Very very very very very very very very gggggooooooooooooodddddddddddddd
12/16/2012 7:15:52 PM

jane3doe says:
DELICIOUS!!!! sooooooooooooooooooooooooooooooooooooooooooooooooooooooooooooooooooooooooooooooooooooooooooooooooooooooooooooooooooooooooooooooooooooo AWESOME!!!!!
12/4/2012 8:41:08 PM

GSanta16 says:
the best EVER!!!!!!!!!!!!!!!
12/1/2012 9:25:21 AM

forever says:
very good
11/20/2012 6:54:56 AM

xmasgurl13 says:
DELICIOUS!!!!!! AMAZING!!!!
11/17/2012 12:29:23 PM

josieperse says:
Have used this recipe for years. Best quick fudge recipe there is!!!
11/10/2012 9:53:05 AM
Other Tasty Treats You Might Enjoy
Fudge and Confections
American Fudge and Confections
Fudge