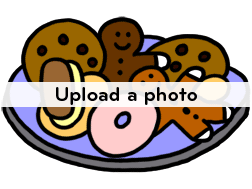 From the kitchen of Michelle Day
This recipe has been on northpole.com from the beginning… since 1996! We hope you enjoy this classic North Pole recipe. Let us know your opinion by submitting a review!
Recipe Details
Ingredients
1 cup butter or margarine
1 cup powdered sugar
1 egg
2 teaspoons vanilla
2 1/2 cups flour
1 teaspoon salt
1/2 cup finely crushed candy cane mixed with 1/2 cup sugar
1/2 teaspoon red food coloring

Directions
When ready to bake, preheat oven to 350 degrees F.

Mix all ingredients, except the crushed candy/sugar mixture.

Split dough into 2 equal portions.

Color one portion of the dough red.

Refrigerate the dough long enough to be able to easily work with it.

Break off one piece (approx. one teaspoon of each color) and roll by hand into four to five inch tubes.

Twist the two pieces together and bend forming a candy cane.

Sprinkle the top with the candy cane/sugar mixture.

Bake for 6-9 minutes.
Be careful when removing from the cookie sheet, they will break easily.
Reviews
Log in now to rate this recipe.

Lilheinz16 says:
So good
12/24/2014 5:12:56 PM

kululu says:
yuumy :)
12/9/2012 10:48:13 AM

leyahpearson says:
those cookies were so good they were awsome
12/2/2012 11:20:07 AM

1472583690 says:
I LOVE IT I AM 12 AND I MADE IT FOR MY GS TROOP AND THEY LOVED IT THANKS TO MICHHELE I AM THE TROOP LEADER
11/30/2012 8:46:45 PM

Kbug311 says:
My Mema bakes these all the time! They tasted pretty alike. (And that's not a bad thing!) :)
11/25/2012 3:35:38 PM

nanceamillion12 says:
Loved it, tasted very good with a cup of cold milk. Gonna make this every holiday season with my kids :)
11/10/2012 3:27:51 PM
Other Tasty Treats You Might Enjoy
Cookies
American Cookies
Molded Cookies