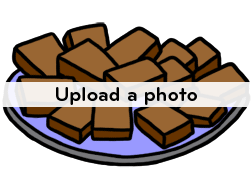 From the kitchen of Valerie Mckelvey
This recipe has been on northpole.com from the beginning… since 1996! We hope you enjoy this classic North Pole recipe. Let us know your opinion by submitting a review!
Recipe Details
Ingredients
1 package (14 ounce) caramels, about 68
3 tablespoons water
1 1/2 cups coarsely chopped pecans
1 cup coarsely crushed crisp rice cereal
2 cups milk chocolate chips
1/3 bar paraffin wax

Directions
In top of double boiler over low heat or in microwave, melt caramels with water.

Remove from heat and stir in pecans and cereal.

Drop by heaping teaspoonfuls onto lightly greased waxed paper.

Chill until firm.

In top of double boiler over low heat, melt chocolate chips and paraffin.

Use a double boiler rather than a microwave for this step, as you will need to work over the pot in order to keep the chocolate melted.

Dip caramel/pecan/cereal drops in melted chocolate.

Place on waxed paper and chill until set.

Store in airtight container.
Reviews
Log in now to rate this recipe.

Arkirose1 says:
I have made them several times. I just donít put the cereal in them. They are AMAZING! Just like Millionaires!!
12/5/2019 9:15:43 PM

NancyMillerRounds says:
My friend knew exactly what this was--she was from Texas! This is a keeper. Try these suggestions: Does the candy taste good before you tip it? If so, then it is the chocolate. I used Guittard Melt'n Mold without the paraffin.
7/15/2014 10:05:06 PM

Mommyof2boys says:
The taste is strange . waste of ingredients
12/7/2013 1:50:05 PM

kjkjj says:
DISGUISTING! THEY ARE HORRIBLE!!!!
12/9/2012 1:09:21 PM
Other Tasty Treats You Might Enjoy
Fudge and Confections
American Fudge and Confections
Chocolate Treats