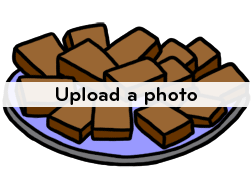 From the kitchen of Reisha Collins
This recipe has been on northpole.com from the beginning… since 1996! We hope you enjoy this classic North Pole recipe. Let us know your opinion by submitting a review!
Recipe Details
Ingredients
300ml (1/2 pint) fresh milk
450g (1 pound) granulated sugar
100g (4 ounces) butter
2.5ml (1/2 tsp) vanilla essence

Directions
Pour the milk into a saucepan and bring slowly to boil. Add sugar and butter.

Heat slowly, stirring constantly until sugar dissolves and butter melts.

Bring to boil and cover pan with lid. Boil for 2 minutes.

Uncover and continue to boil steadily, stirring occasionally, for an additional 10-15 minutes or until a little of the mixture (when dropped into a cup of cold water) forms a soft ball when rolled gently between finger and thumb.

Temperature on candy thermometer, if used, should be 116 C (240 F)

Remove from heat and stir in vanilla. Let mixture to cool for 5 minutes.

Beat fudge until it just begins to lose its gloss and is thick and creamy.

Transfer to a greased 8cm / 7inch square tin.

Make into squares when cool.

Store in an airtight container.
Reviews
Log in now to rate this recipe.

louloulita123 says:
yuummmm..I will definetly do it this year ;)
6/27/2013 9:05:57 AM

ags411 says:
i love this recipie its like OOOOOOOOOOOOOOOMMMMMMMMMMMMMMGGGGGGGGGGGG
12/24/2012 5:27:18 PM
Other Tasty Treats You Might Enjoy
Fudge and Confections
British Fudge and Confections
Fudge