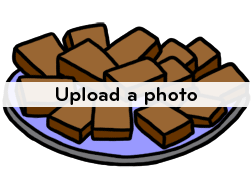 From the kitchen of Addie
This recipe has been on northpole.com from the beginning… since 1996! We hope you enjoy this classic North Pole recipe. Let us know your opinion by submitting a review!
Recipe Details
Ingredients
4 boxes of confectioner's sugar
1 large potato
1 tablespoon vanilla
1 tablespoon butter/margarine
1/2 teaspoon salt
1 jar (16 ounce) crunchy peanut butter

Directions
Boil whole, unpeeled potato w/ no salt. (Do not allow it to fall apart.)

When cooked, peel while hot, cut it up, then mash.

Add vanilla, salt and butter and mash in.

Add 1 box of sugar and continue to mash. Keep adding sugar (by the box) until mixture becomes like dough. When this happens, knead with hands.

Sprinkle cutting board with powdered sugar.

Take half of the dough and roll it out about 3/8" thick and fairly square shaped.

Spread crunchy peanut butter, leaving at least 1/2 in edge at what will be bottom end, and then roll.

Wrap roll in wax paper and refrigerate at least three hours.

Slice rolls for serving.
Reviews
Log in now to rate this recipe.

cookie1952 says:
I have made this recipe for years, it is delicious. I use a small potato, still makes a lot. Continue adding sugar until you have a soft dough that can be rolled out with a rolling pin. Usually takes about 2 lbs. of sugar. Keep refrigerated, it is soft. When you are serving the candy, then slice it and put on a plate. My mother-in-law, Beulah made this every Christmas. Little tricky to make but well worth it.
12/23/2013 11:29:41 AM

lorrirae09 says:
It didn't blend together all. I ended up throwing it away. Not very good start for my Christmas baking season. I tried to give this rating a negative star but it wouldn't let me.
12/8/2012 12:01:37 PM
Other Tasty Treats You Might Enjoy
Fudge and Confections
American Fudge and Confections
Divinity & Nougat