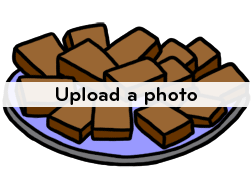 From the kitchen of Penny Y.
This recipe has been on northpole.com from the beginning… since 1996! We hope you enjoy this classic North Pole recipe. Let us know your opinion by submitting a review!
Recipe Details
Ingredients
1 cup peanuts
1 cup sugar
1/2 cup corn syrup
1 teaspoon butter
1 teaspoon vanilla
1 teaspoon baking soda

Directions
Coat a 13x9 inch baking pan with non-stick cooking spray.

This recipe is done completely in a microwave on high power.

Stir the sugar and corn syrup in a large microwave safe bowl. Cook on high for 4 minutes.

Stir in the peanuts. Cook on high for 3-5 minutes. Add the butter and vanilla and blend well.

Cook for 1-2 minutes. Add the baking soda and stir until foamy.

Spread the mixture in pan and let cool for 1/2 hour.
Reviews
Log in now to rate this recipe.

Barb73 says:
this recipe is good, but use glass bowls and not plastic bowls, it will melt even if it say microwave safe
12/23/2014 4:58:59 PM

emilydancer123 says:
soooo good. you rock person who made this. like, a very lots!
12/9/2012 6:04:29 PM

Trecee15 says:
Most yummy thing I ever had!!!!!:)
11/26/2012 5:04:16 PM

Benandruby says:
It needs a specific time because if it doesn't if you put it in the microwave for 10 minutes it might burn and try putting corn syrup vanilla and sugar in a pot
11/23/2012 3:09:11 PM

mandye76 says:
Delicious and easy to make...I have experimented and subustituted creamy peanut butter for the peanuts. 1-2 tablespoons work great and my older relatives just want to know how it was done without peanuts! Just be creative and let your imagination and taste buds go beyond "NORMAL"!
11/8/2012 8:51:06 PM
Other Tasty Treats You Might Enjoy
Fudge and Confections
American Fudge and Confections
Brittle