USO Holiday Boxes

When you think of the United Service Organizations [or USO], you may immediately think of USO tours, during which the USO sends entertainers to perform for American soldiers stationed around the world—from Japan to the Persian Gulf to the United Kingdom and elsewhere. Past performers include Bob Hope, Robin Williams, Lena Horne, Johnny Unitas, the Dallas Cowboys Cheerleaders, Steve Martin, the Sesame Street crew, and many more.
While the USO tours are fantastic, the USO actually does so much more. The USO has been around since 1941, and the mission of this nonprofit is to "lift the spirits of America's troops and their families." From arranging USO tours to sending care packages to offering support with health issues to delivering prepaid international phone cards to the soldiers, the USO is succeeding in their mission.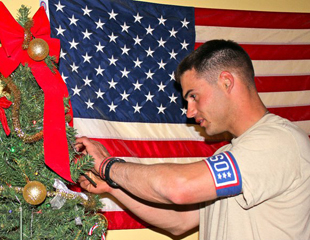 One particular way you can help the USO brighten the troops' spirits this Christmas is by donating so that they may send USO Holiday Boxes. Specifically for soldiers in remote locations who do not have access to traditional USO centres, these boxes contain holiday decorations, edible goodies, and more for 50 troops. The USO offers boxes for four different holidays, and the winter box includes:
Snowflake decorations & holiday lights
Seasonal greeting cards
Holiday CDs & DVDs
Popcorn, plus other holiday treats & candy
Hand & feet warmers
Holiday-scented air freshener
New Year's decorations
For more information on the holiday boxes, visit the USO website or contact a USO representative.