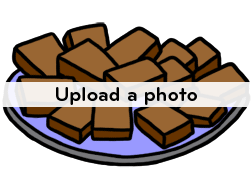 From the kitchen of isabella93
This recipe works great in schools. I make it every year.
Recipe Details
Ingredients
1 bag (16 ounce) Nestle white chocolate chips
1 box powdered sugar
1 box Chex cereal
Any kind of Christmas sprinkles you'd like
M&M's, crushed up candy canes, sprinkles, and/or nuts, optional

Directions
To melt the chocolate, put it in the microwave in a microwave-safe bowl for 2 minutes, take out and stir, put it back in and repeat until all melted.

In a very large bowl, pour half the Chex cereal, coat it with half of the white chocolate, and mix until covered.

Pour the rest of the cereal on top of the mixture, and coat it with the rest of the white chocolate until all is covered.

This is where you would add your nuts, M&M's, crushed up candy cane pieces, or sprinkles (preferably green and red if it is around Christmastime).

In a freezer size Ziploc bag, pour enough powdered sugar to coat the bag, pour some of the Chex and chocolate mixture in with the powdered sugar, add a little bit of powdered sugar at a time. (Too much makes it too sweet.)

Shake the bag until all is coated, repeat step 5 until all is done. You may need more than one bag to shake it in. You could also use a paper bag, which might be easier when working with kids. Mine just like to see what is going on inside the bag.

I usually wait until step 5 to bring the kids in on and have them add the sprinkles. They each like to have a bag so they can add what ever they like to it. There are a million possibilities as to what can go in it. It may get a little messy, but it's fun!
Reviews
This recipe has not been reviewed. Log in now to rate this recipe.
Other Tasty Treats You Might Enjoy
Fudge and Confections
American Fudge and Confections
Sweet Mixes