If you love all of the handcrafted goodies on Etsy as much as I do, then surely you will also have fun at one of these indie Christmas craft fairs, which are essentially Etsy in event form. At these markets you will find a wide variety of wares—clothing, jewelry, baked goods, ceramics, cards, and loads more. By shopping at one of these fairs, not only will you be able to find truly unique Christmas presents for your loved ones, you will also be supporting local small businesses, so it's a win-win.
Below I've highlighted a few of these merry markets, but if you have a favourite local indie craft fair in your area, let me know in the comments!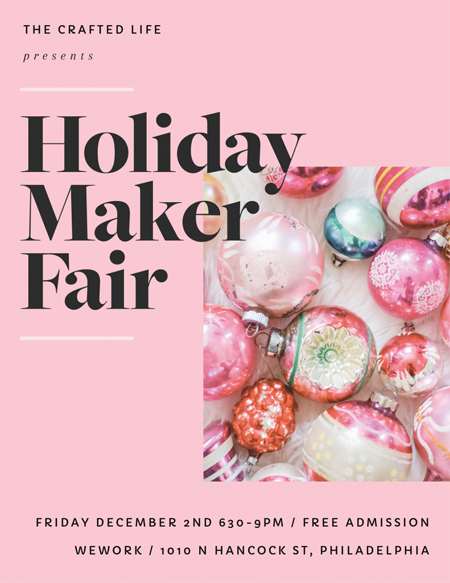 Frustrated with the lack of indie craft fairs in Philly, Rachel from The Crafted Life decide to host her own! During First Friday, head on over to the Holiday Maker Fair and browse the goodies from a curated selection of local crafters—some of whom even make neato Philadelphia-themed items. While shopping you can also enjoy refreshments or pop into the holiday photo booth.
Holiday Maker Fair
WeWork Northern Liberties
1010 N. Hancock Street

Friday, 2 December
6.30–9pm
Admission: Free!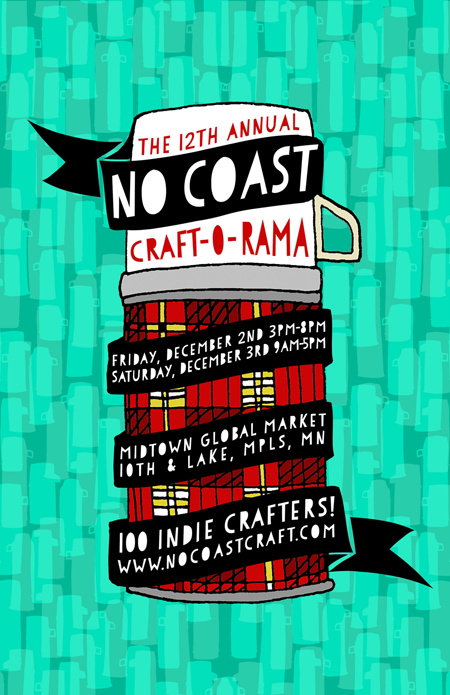 If you're in the Twin Cities area, be sure to check out the 12th annual Holiday No Coast Craft-o-Rama. This indie, urban, and modern art & craft show will feature woodworking, ceramics, cards, handcrafted dog toys & treats, and more. And as a twist on the traditional tote bag giveaway, each vendor will be giving away a free No Coast tote with the first sale of the day on both days—no matter how big or small the purchase is.
Holiday No Coast Craft-o-Rama
Midtown Global Market
920 E. Lake Street

Friday, 2 December: 3–8pm
Saturday, 3 December: 9am–5pm
Admission: Free!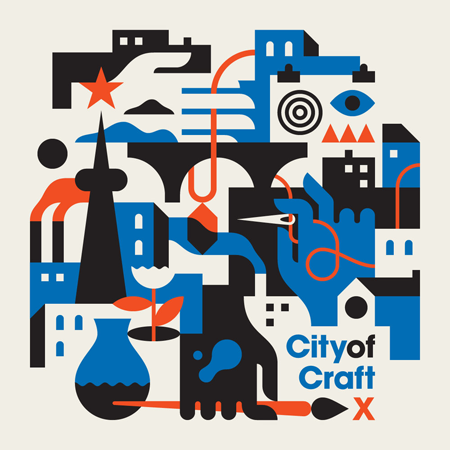 This holiday season you're invited to a crafty birthday party, as City of Craft turns 10! To celebrate this past decade, they're hosting a weekend-long party with more than 60 of T-Dot's best makers, workshops, installations, and giveaways. Whether you go on Friday night for drinks & music or show up bright & early on Saturday morning for one of the limited edition swag bags, you're sure to have a great time.
City of Craft X: Handmade Decade
The Theatre Centre
1115 Queen Street West
[entrance on Lisgar St.]

Friday, 9 December: 6–10pm
Saturday, 10 December: 11am–6pm
Sunday, 11 December: 11am–5pm
Admission: $3 [Kids 12 & under free]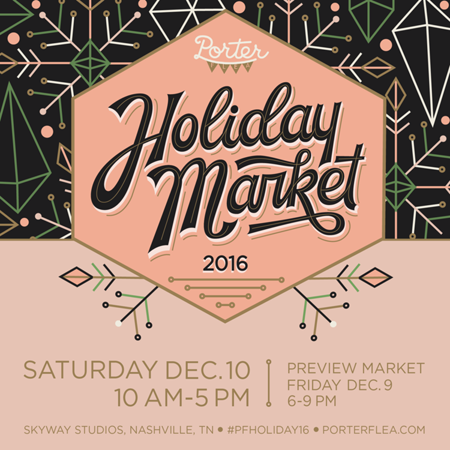 Named Best Artisan Market by the Nashville Scene in 2012, Porter Flea Holiday Market is a juried and curated market that focuses on unique, local, and handmade gifts. Here you will find a variety of goods, including children's toys, enamel pins, home decor, clothing, and holiday cards. You have two options on how to attend: the more intimate, ticketed Preview Market on Friday evening or the free Main Market on Saturday.
Porter Flea Holiday Market
Skyway Studios
3201 Dickerson Pike

Friday, 9 December: 6–9pm [Preview Market]
Admission: $25 [Buy tickets here.]

Saturday, 10 December: 10am–5pm [Main Market]
Admission: Free! [But you can skip the general admission line with a $15 Porter Pass.]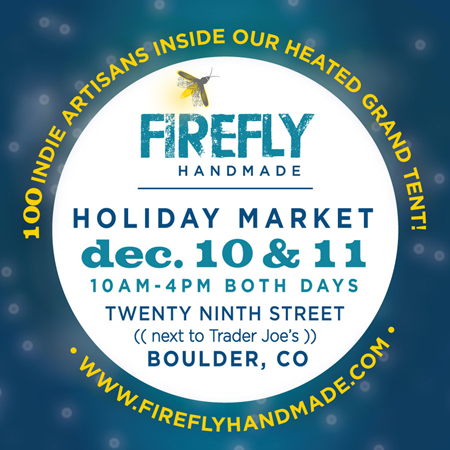 Join Firefly Handmade for their first ever outdoor holiday market inside a giant heated tent at the popular Twenty Ninth Street shopping district. This event will feature indie wares from 100 vendors, such as bohemian inspired jewelry, coffee scrubs, paper goods, and craft wines. If that wasn't enough, there will also be artisan demos, food trucks, live music, AND a vintage VW bus photo booth.
Firefly Handmade Holiday Market
Twenty Ninth Street
1710 29th Street

Saturday, 10 December: 10am–4pm
Sunday: 11 December: 10am–4pm
Admission: Free!
Additional Craft Fairs
While I would love to feature all of the indie Christmas craft markets, I have to get back to my other elfy duties. But, since I really just can't help myself, after the jump you'll find info on just a few more craft fairs happening this month.

Posted by Becky on
Category: Events & Activities, Gifts & Shopping