Raymond Around the World: Chicago
After visiting Brooklyn, New York; Bronner's Christmas Wonderland in Michigan; a farm in Virginia; Lord's Cricket Ground in England; and Venice, Italy, where else do you think Raymond travelled to this year? If you guessed Chicago, Illinois [or if you read the title of this post ;)], you are correct!
In the spring I had to venture down to Chicago for a conference, and Raymond asked if he could tag along. Raymond is such a great travel companion that of course I said yes! The weather was sunny and mild, so we walked and walked and walked all around Chicago. We walked so much that my feet and Raymond's hooves were aching by the end of the day—but we still had a fantastic time.
We started our day by walking quite a ways along Lakefront Trail, enjoying the breeze and the views of beautiful Lake Michigan.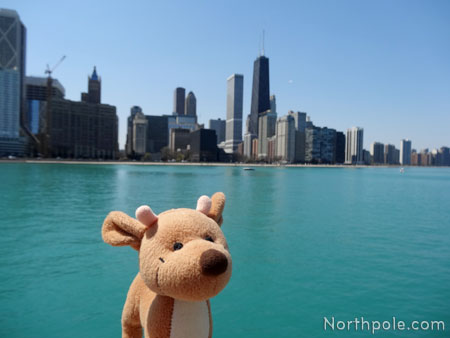 Raymond with Lake Michigan and the Chicago skyline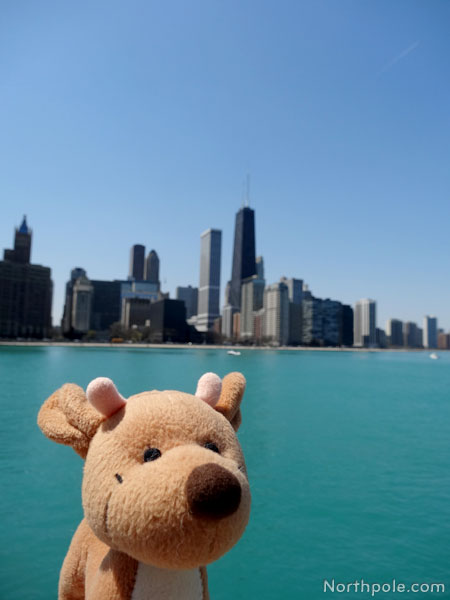 One happy reindeer, loving the sunshine and lake breeze
Then we wandered into the city, making our way to Millennium Park. On the way, we walked over some bridges, which always delights both Raymond and me.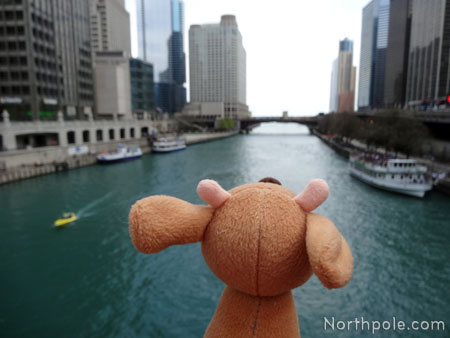 Looking out over the Chicago River
Once we made it to Millennium Park, we strolled over to Cloud Gate, AKA "The Bean." This amazing sculpture was constructed from 168 stainless steel plates that were welded together, and it has no visible seams. It measures 33 by 66 by 42 feet, and weighs over 100 tons—wow! Cloud Gate is extremely polished, so it reflects and distorts the people standing around it and the city's skyline. Raymond and I thought the sculpture was really something special, as it's so simple yet so stunning.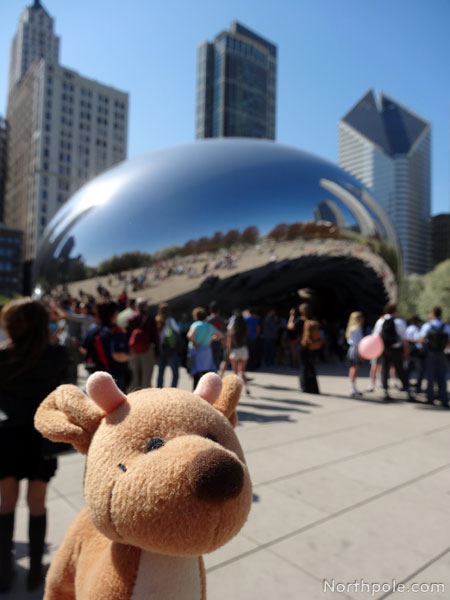 Raymond with Cloud Gate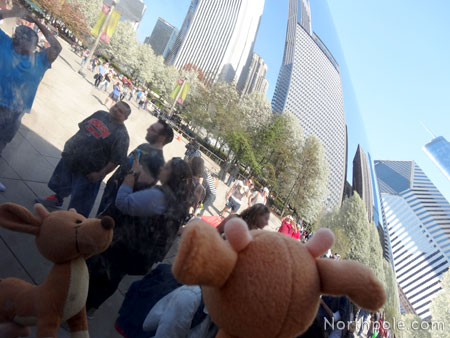 Enjoying his reflection and the distorted skyline
After we left Millennium Park, we just happened upon the Chicago Stock Exchange arch. This large, embellished arch is more than 100 years old and is one of the very few pieces remaining of the original Chicago Stock Exchange building.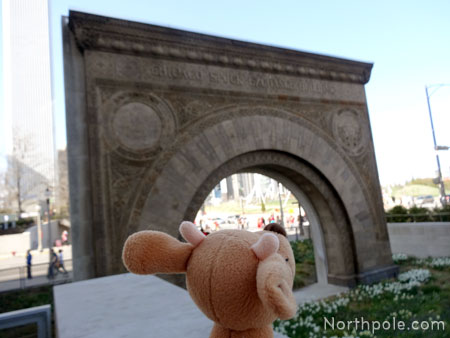 Checking out the detailed embellishments on the Chicago Stock Exchange arch
While we ambled around Chicago, Raymond and I kept commenting to each other how much great architecture there is in this city. One of our favourite structures in Chicago was the Wrigley Building, which is 90 years old and features a clock tower. It's right on the river, which makes it even more lovely.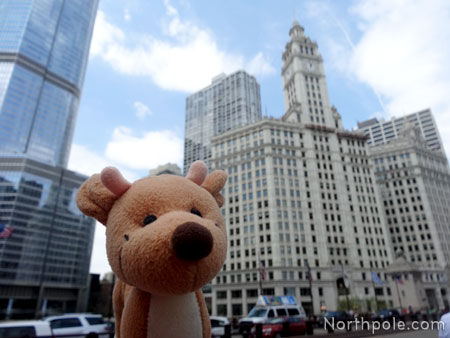 With the Wrigley Building in the background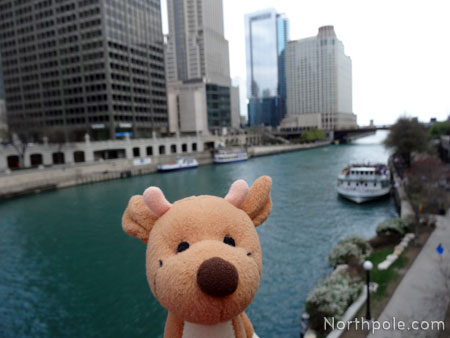 What can I say—Raymond and I love rivers and bridges
At this point we had already done A LOT of walking, so Raymond and I decided that we needed a snack, and what better snack in Chicago than Garrett Popcorn? Naturally we had to try the Chicago mix, which is caramel popcorn combined with cheese popcorn. I know that sounds a little odd, but somehow it works and is rather tasty!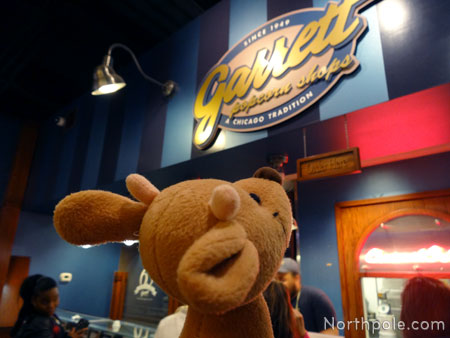 Waiting in line at Garrett Popcorn
Tummies satisfied, we walked down Navy Pier just in time to see the sunset, which was just gorgeous over Lake Michigan and with the skyline in the background.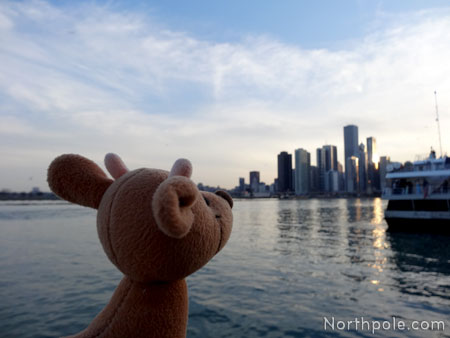 Raymond enjoying the sunset from Navy Pier
When we were heading back down Navy Pier, Raymond saw the Ferris wheel, and he begged me to go for a ride. I'm a little scared of heights, but how can I say no to Raymond? I was a little nervous on the ride, but I held Raymond's hoof. He's such a good friend 🙂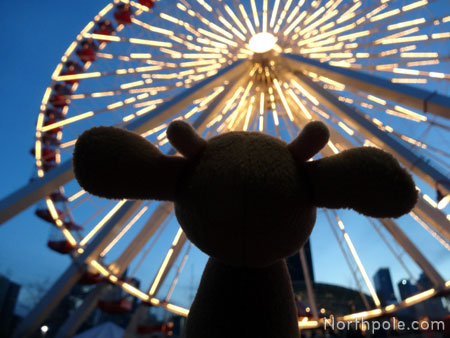 Excited to ride the Ferris wheel on Navy Pier
Overall Raymond and I had a fabulous time in Chicago. Where should Raymond visit next year? Let us know in the comments!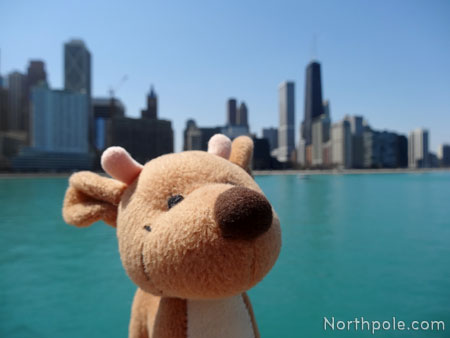 Merry Christmas from Chi-Town!