Raymond Around the World: China
Note from Becky: This past summer Raymond had a wonderful opportunity. Aaron, a friend of the elves, invited Raymond to travel with him to China! Raymond was ecstatic and talked excitedly about the trip relatively non-stop for weeks beforehand. Below is Aaron's recount of their fun adventure.
Our trip got off to an interesting start with Guangzhou customs officers questioning Raymond's lack of a passport/visa.
Unperturbed, Raymond asked the officials if they knew for whom he worked. "Perhaps you have heard of him. His name is Santa Claus, though you might know him as Father Christmas." "Welcome to China, Mr. Raymond," said the lead officer, after validating his credentials on northpole.com. "Stay as long as you wish, and please call us if you need anything." They handed Raymond their card and let him through.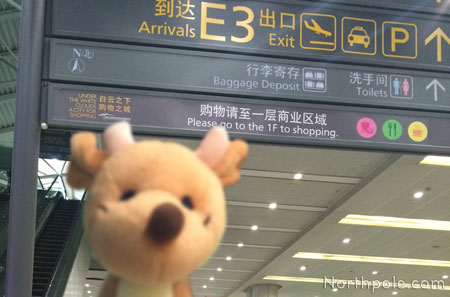 Raymond photobombing a picture in White Cloud Airport
Raymond quickly realized he would have to adjust to a new climate. His Nordic undercoat was not designed for the heat and humidity of Southeast Asia. However, when he saw all the happy, smiling children, he knew he came to the right place. He wondered how the reindeer delivery team managed to get packages to so many people each year. He then remembered that Santa, through centuries of experience, had become ultra-efficient.
Raymond then began his Guangzhou tour. He liked how the large, modern city contrasted with the traditional homes and villages.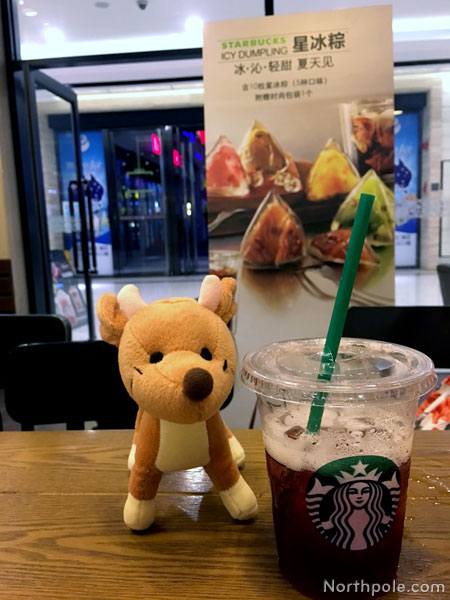 Cooling off with some iced coffee
On the first day, Raymond visited a huge underground mall with many toy stores and play centers for children. A European bakery had big Belgian waffles that reminded him of the delicious waffle he had in Brussels, Belgium. When Raymond got tired, he stopped for coffee at Starbucks (and was pleasantly surprised to find that his Starbucks card worked there). Finally, he took a boat ride on the Pearl River, which cuts through the city. The boat had an open deck, upon which he drank tea while winding along the route. This was very relaxing.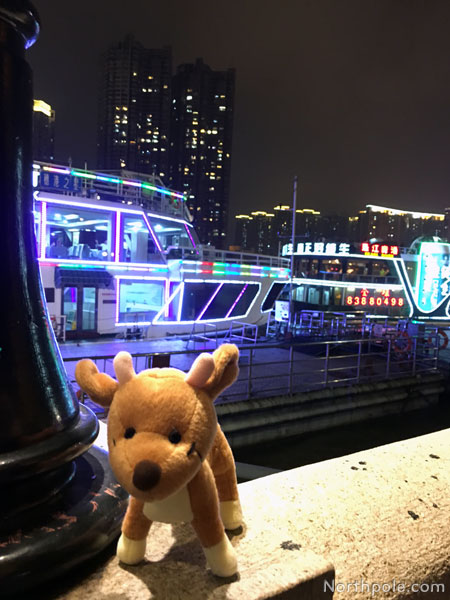 About to go on a relaxing boat ride on the Pearl River
The next day, Raymond climbed a mountain with a waterfall. The quiet, natural setting was a nice break from the previous day's urban hustle. At the top of the waterfall was a Buddhist temple. Raymond explained to the kind monks that his job was to help the elves at the North Pole prepare so Santa can deliver gifts to children. The monks praised Raymond for such a noble vocation. They promised that many good things would come to him in return. On the way down, Raymond washed his hooves in the stream that collected toward the bottom. He chatted with some college students, who practiced their English with him and told him how popular he would be around Christmastime in Guangzhou.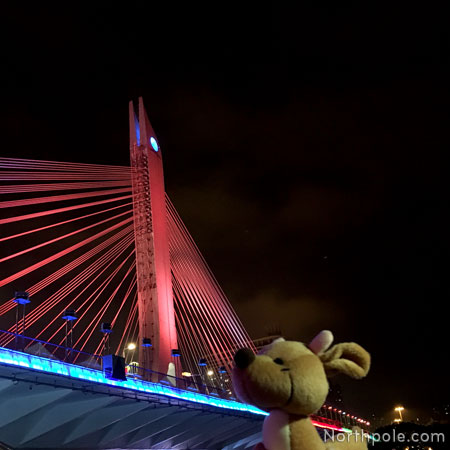 Peering at the Haiyin Bridge
Raymond returned to the city for the third day. Most of the day was spent at a toy factory in an industrial park; he found it interesting to see another place where toys are made and compare it to Santa's Workshop. Raymond and the factory managers also discussed what toys they all thought might be hits next Christmas. When the meeting was over, the factory work unit took Raymond to the Guangzhou central library. Raymond stood in awe of the multi-storey mega-library. Fortunately for Raymond, an entire floor was dedicated to books in English. Raymond quickly found the section about Western holidays, and he was happy to find several items about "Father Christmas" (Santa).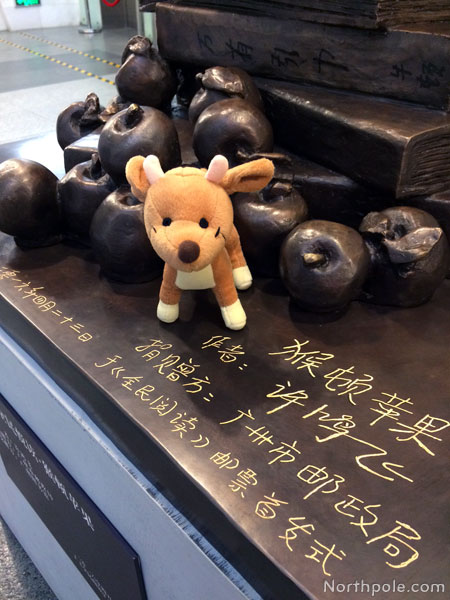 Raymond in the Guangzhou library next to a statue that represents learning & scholarship
On the last day of his trip, Raymond decided to walk around the whole city, with no particular plan about it. He saw an old, bearded man on the side of the road. The man had some papers with strange symbols on them, the most prominent of which was the distinctive "yin/yang" divided circle. Raymond realized this man was a fortune teller.
Curious, Raymond paid the fortune teller 50 RMB (Chinese dollars) and asked what lie in store for himself. The man asked Raymond to extend his right, front leg. He then used his fingers to trace the markings on the bottom of Raymond's hoof.
"You have a generous heart and are loved by many. The people here like you very much, but you must leave soon. It will be 'beneficial for you to forward the great water' tomorrow."
Raymond understood what this meant. He had had a wonderful trip to China, but it was time to go back to his home at the North Pole. He thanked the man, and then finished his solo tour.
The next day, Raymond took a taxi back to White Cloud Airport, said "goodbye" to his new friends, hopped aboard his flight, and began his return trip. (Since Raymond is a young reindeer, he flies commercial airlines to get farther north, then he uses his special magic to fly the rest of the way home.) He was sure Santa would be impressed with the plush toy samples and distribution ideas the factory bosses gave to him.
While he would miss his new friends, Raymond was happy to return home.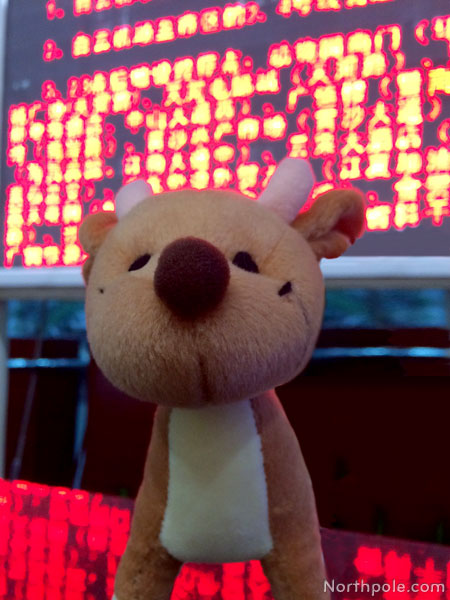 圣诞节快乐
Another note from Becky: That sounded like a fantastic trip, didn't it? I may have to get Raymond to show me around China sometime! Where else do you think Raymond went this year? Stay tuned to find out! 😀