Festive Kickstarter Campaigns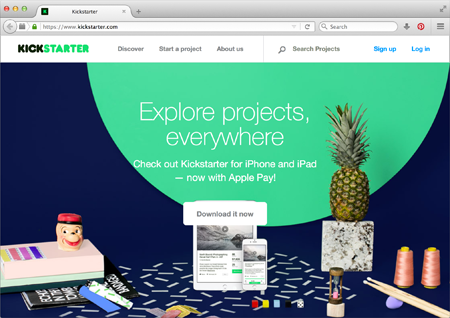 Since we elves enjoy making things at work and in our spare time, we love creative projects from other folks as well—be it new products, joyful music, or delicious food. So, it's time once again this year to highlight some fabulous festive projects that are currently seeking funding on Kickstarter, a website whose mission is "to help bring creative projects to life."
If you have an artificial Christmas tree, but can't stand the green pole at the base, then the Christmas Tree Hugger is for you! The flexible hugger wraps around the pole and features a classic brown bark, white birch bark, or candy cane design.
There's still time to get a Christmas Tree Hugger for this holiday season, so back this campaign today.
Permanent and weather-resistant, you can easily install EverLights once and then enjoy them for years to come. Plus, you can customize the colours and sequence of the lights using the included smartphone app. After the Christmas season, you can change the lights' colours to celebrate other holidays or even to match the colours of your favourite sports team!
Learn more about the EverLights Kickstarter campaign here.
Christmas music always helps make the holiday season feel special, and this collaboration by a group of female singer-songwriters and string players will definitely put you in a festive mood.
Rewards include digital and physical copies of the album, as well as handmade ornaments and caroling sessions, so be sure to check out this campaign.
The star of one of my go-to Christmas party recipes is goat cheese, so I simply had to feature this campaign—plus the goats are just so darn cute! Dancing Goats Dairy's Kickstarter campaign will help them expand and revamp parts of their business and farm. Did I mention that their artisan goat cheese is included with some of the rewards? Mmm… 🙂
Help out Dancing Goats Dairy, and back this campaign today!
These hand-printed tree posters are perfect if you live in a small space and don't have room for a Christmas tree. Simply hang the poster on the wall and decorate with stickers, markers, or paper ornaments!
Get your own tree poster by donating to this campaign.