A few years ago, I started using essential oils because I wanted to replace conventional air fresheners (that often contain toxic chemicals) with more natural fragrances. After trying several essential oils over the past couple years, I'm in love and use them on a daily basis! I frequently have my diffuser running with various blends when I'm feeling sick, battling a headache, or need to relax and de-stress. During the holiday season, I especially enjoy blends that fill my home with a warm and cozy scent. Take a peek at the infographic below for some ideas for seasonal sniffs!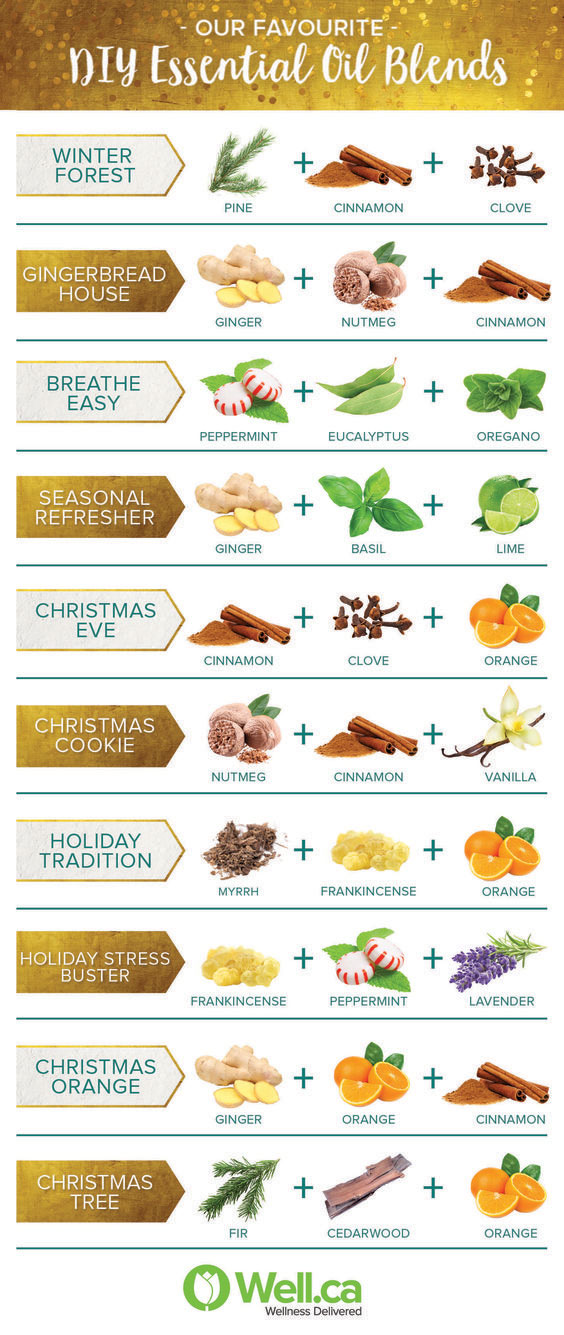 Click on the image for a closer look! Infographic via Well.ca
Important Tips for Newbies:
If you're new to essential oils, there are a few things you need to know before diving in:
Get Pure Oils: While there are many oils on the market, many of the lower-priced ones are usually not pure (!) and may even be cut with filler oils. (Ew!) Therefore, I recommend only purchasing high quality essential oils such as doTERRA, Young Living, or Rocky Mountain Oils.
Pet Safety: Not all essential oils are safe for pets, so take a few minutes to read up on what oils are safe to use around your furry friends.
Application Safety: Just because essential oils are natural that doesn't mean that they are safe to use however you want. Some essential oils are safe to inhale (via a diffuser), but they may not be safe to apply topically or use internally. Always, always, ALWAYS exercise caution, and when in doubt, educate yourself on how to properly use an oil.
Less is More: Essential oils are very concentrated, so you don't need to use a lot. When creating a blend from the image above, one drop of each oil should be plenty. If your diffuser is in a large room, start with just 3 drops total, then add more if needed.
Which essential oil blend is your favorite? Let me know in the comments below!

Posted by Mary on
Category: Infographics, Merry Miscellaneous