Holiday Indie Craft Fairs
Whether you're simply wanting to attend a holiday event or you need to finish up your Christmas shopping, indie craft markets are always an enjoyable time. These fairs feature vendors selling all sorts of handmade wares—everything from stationery to ceramics to edible treats and more. Many of these events include other fun bits, such as DIY workshops, giveaways, food trucks, and music from DJs.
Below I've highlighted a few of these merry markets, but if you have a favourite local indie craft fair in your area, let me know in the comments!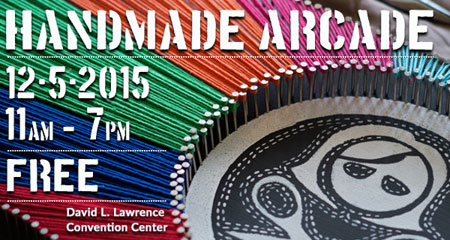 Founded over a decade ago, Handmade Arcade is an award-winning craft fair that features dozens of makers selling everything from jewelry to 'zines to robots. If you're inspired by all the products, you can also get crafty yourself at Hands-on Handmade, a variety of two-hour, half-day, or day-long creative activities. And while you're at this fair, don't forget to pick up a copy of Things Making Things: A DIY Colouring Book.
Handmade Arcade
David L. Lawrence Convention Centre
1000 Fort Duquesne Blvd

Saturday, 5 December
11am–7pm
Admission: Free!

Meet British makers at Etsy Made Local, which lasts all weekend long. At this event, you can sip coffee while you browse the wares from 50+ artisans, have gifts personalized on the spot, and amp up your gift wrap skills at the Wrapping Station. Not in London? Not to worry! Etsy Made Local is also coming to several other cities, such as Cardiff, Glasgow, and Birmingham. Simply visit here and scroll a little bit down the page for information on the other markets around the UK this weekend.
Etsy Made Local
The Vinyl Factory, Soho
51 Poland Street
London W1F 7LZ
[Nearest tube is Piccadilly Circus or Oxford Street.]

Friday, 4 December: 4–7pm
Saturday, 5 December: 10am–8pm
Sunday, 6 December: 11am–6pm
Admission: Free!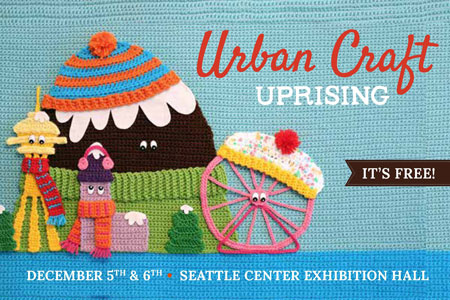 Urban Craft Uprising is Seattle's largest indie craft show, and it has been going on for 11 years now. This fair features over 150 vendors selling all kinds of goodies, such as housewares, food, candles, furniture, and loads more.
The first 100 attendees on each day will receive a swag bag full of surprises from some of the vendors and sponsors. There are also crafty book signings and artist demonstrations. This sounds like a fantastic event, and I love Urban Craft Uprising's manifesto: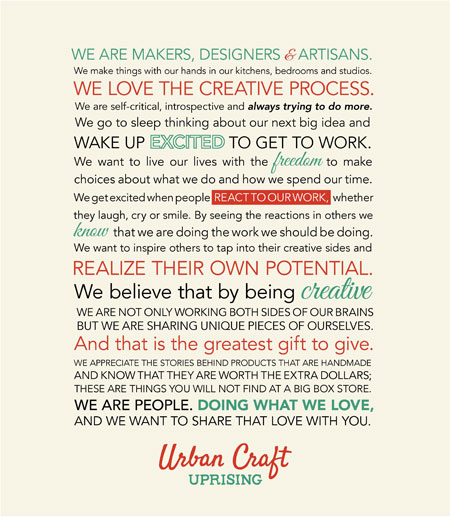 Urban Craft Uprising Winter Show
Seattle Centre Exhibition Hall
305 Harrison Street

Saturday, 5 December: 10am–6pm
Sunday, 6 December: 10am–5pm
Admission: Free!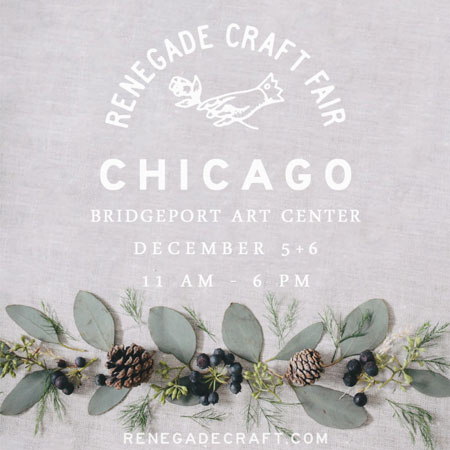 If you're in Chicago, head over to the Holiday Renegade Craft Fair this weekend where you can purchase handmade goods from any of 250 vendors, participate in hands-on workshops, or eat local fare while listening to a DJ. To add to the fun, there will be a photo booth, DIY sugar scrub bar, hand-drawn portraits, and face painting! Before you head out to the market, make sure to enter the giveaway on Time Out Chicago's website for your chance to win an amazing prize package valued at more than $2,000.
Holiday Renegade Craft Fair
Bridgeport Art Centre
1200 W. 35th Street

Saturday, 5 December: 11am–6pm
Sunday, 6 December: 11am–6pm
Admission: Free!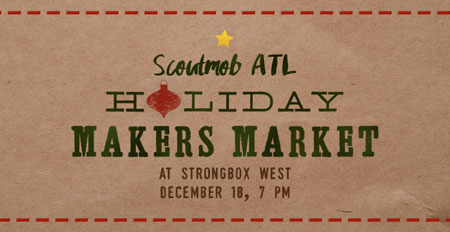 A unique take on your typical December bazaar, Scoutmob's Holiday Makers Market is a craft fair/Christmas party mash-up. This event includes 25 local makers, live music, artist demos, and DIY workshops. If that wasn't enough, with admission, you'll also receive an Old Fashioned, tasty small plates, and a gift bag! This shindig would make a festive and fun date where you and your sweetie could peruse leather goods, glass & film ornaments, ginger treats, and other intriguing items while sipping a handcrafted cocktail.
Scoutmob's Holiday Makers Market
Strongbox West
1040 West Marietta Street

Friday, 18 December
7–10pm
Admission: $19
Additional Craft Fairs
While I would love to feature all of the indie Christmas craft markets, I have to get back to my other elfy duties. But, since I really just can't help myself, after the jump you'll find info on just a few more craft fairs happening this month.

Royal Bison Art + Craft Fair – Edmonton, Canada
Old Strathcona Performing Arts Centre
8426 Gateway Blvd

Friday, 4 December: 5–9pm
Saturday, 5 December: 10am–5pm
Sunday, 6 December: 10am–4pm
Admission: $3
Charm City Craft Mafia Holiday Heap – Baltimore, MD
St. John's Church
2640 St. Paul Street

Saturday, 12 December
10am–5pm
Admission: Free!
The Finders Keepers – Sydney, Australia
Australian Technology Park
Exhibition Hall, Locomotive Street
Eveleigh, NSW

Friday, 11 December: 6–10pm
Saturday, 12 December: 10am–6pm
Sunday, 13 December: 10am–4pm
Admission: $2
Crafty Wonderland – Portland, OR
The Oregon Convention Centre – Exhibit Hall D
777 NE MLK Jr. Blvd

Saturday, 12 December: 11am–6pm
Sunday, 13 December: 11am–6pm
Admission: Free!
Root City Market Holiday Pop-Up – Atlanta, GA
The Stove Works
112 Krog Street NE

Saturday, 12 December
10am–4pm
Admission: $5