Serving Goodness on Christmas Day (and Every Day of the Year)
When I heard about what the good folks at Mobile Loaves & Fishes were doing, I knew I just had to share. This non-profit serves meals to the homeless and the working poor every single day of the year. Not only do they provide quality, fresh food, they also provide other items we may typically take for granted: clothing, toiletries, relationships, and opportunities.

Since the organization's inception in 1998, they have served over 4 million meals! As you can imagine, it takes a lot of dedicated people to make that happen. In fact, more than 18,000 volunteers have rolled up their sleeves to help over the years. How do they do it, you ask? They prep the yummy fares, load up the food truck, and then make several stops around the Austin, Texas area.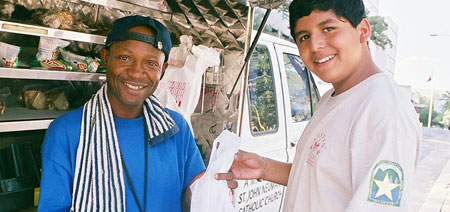 Serving food and basic necessities is not all that Mobile Loaves & Fishes does for the metro Austin community. They are actively striving to build community and supply people with means to reestablish themselves through their Genesis Gardens, Community First!, and Community Works programs. This short video sums up their mission and the impact that Mobile Loaves and Fishes has on impoverished people's lives.
To learn more about volunteering for this admirable organization, click here. If the work of Mobile Loaves & Fishes speaks to you, consider supporting them by making a tax-deductible donation online.