Showing Compassion and Instilling Hope 365 Days a Year
Poverty doesn't take a holiday. And neither does Upper Valley Haven.
The outstanding folks at Upper Valley Haven have been showing compassion in their Vermont community for more than 35 years. They understand the grief and emotional toil people endure when hard times strike. That's why they are open 365 days and serve 14,500+ people every year. Watch one family's story of how the Haven impacted their lives.

As you saw in the video, Upper Valley Haven is so much more than a food shelf. The Haven is also a shelter for those experiencing homelessness, and they provide services that help families get back on their feet. Want to know something else? They never charge for their services! How is this possible? The Haven is sustained entirely by private donations given by generous people like you.

If you're wondering how you can help, keep reading. There are several ways you can support Upper Valley Haven.
Virtual Food Drive
Donate food online through the Haven's virtual food drive. You can select the item(s) you want to give, be it cereal, milk, eggs, produce, baby formula, or other items. You can even donate larger gifts, such as food for an entire day in the Food Shelf. And, if you wish to remain anonymous, know that any gift given through the Virtual Food Drive can be given anonymously. Simply click the check box that says "I would like this gift to remain anonymous."
Custom Holiday Cards
When you purchase holiday cards via Picaboo with code CARDS4CAUSES, you will receive 50% off your cards AND Picaboo will donate 50% of the proceeds to Upper Valley Haven. Sounds great, right? But that's not all. On the back of your custom cards, there is information about Upper Valley Haven, so whether you're sending cards to friends, family, or colleagues, you can spread the word about this organization.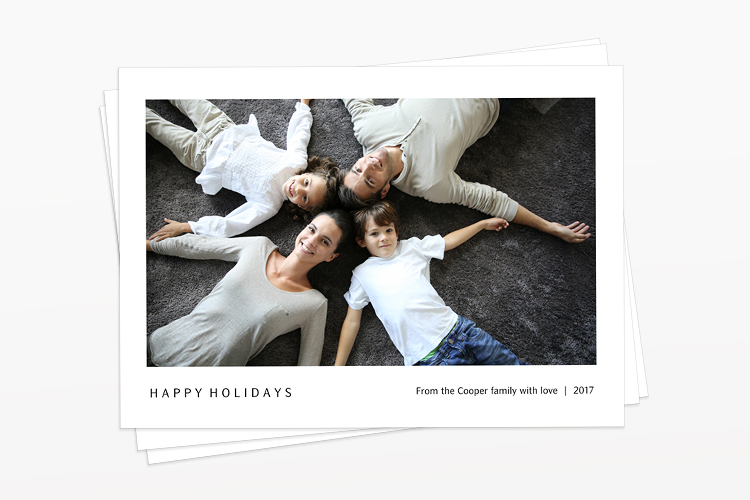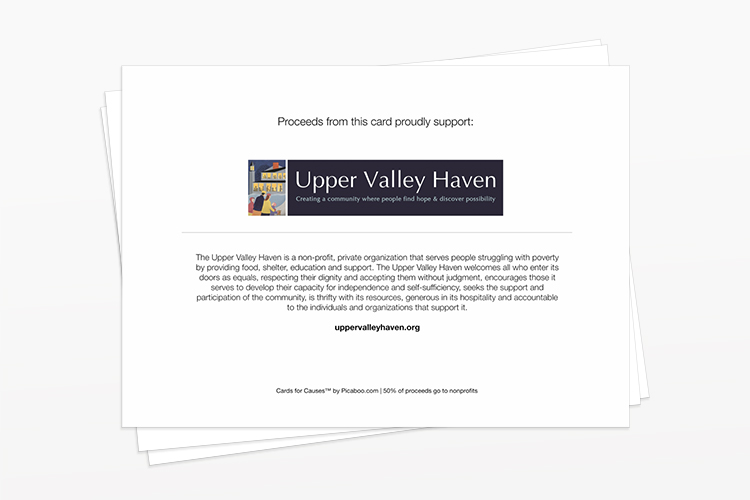 Tribute Gifts
Making a donation in someone's honor is a great way to give a Christmas present to someone who has everything. When you donate to Upper Valley Haven's virtual food drive or support services, you can elect to give in someone's honor, memory, or in support of an individual. This holiday season you can gift something that gives twice—once to honored individual and once to the person receiving help from the Haven.
Purchase a Limited Edition Print
If you or someone you know likes to collect art, then you may be interested in this limited edition print by Vermonth artist Sabra Field. The painting displays the warmth of the Haven and has become the company's logo. You can acquire this art by making a donation to the Haven here.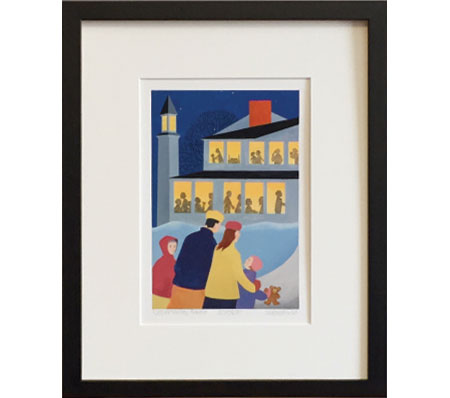 More Ways to Get Involved
If you live near the Haven and are eager to roll up your sleeves, there are many more ways to help. Here are just a few ideas: organize a food drive, volunteer at a service day (yard work at the Haven), or lead a workshop (teach on a variety of topics such as interviewing, parenting, and more). You could even volunteer at the Vermont Food Bank and "earn" food bank money for Upper Valley Haven. Learn more about volunteering at the Haven here.
Upper Valley Haven
713 Hartford Ave
White River Junction, VT 05001