Up on the Rooftop: Ice Skating Fun This Winter
Despite having a fear of heights, I strangely enough really enjoy going on rooftops, as they offer amazing views of the city below. So imagine my excitement when I found out that some buildings have ice skating rinks on their roofs! Festive fun + up high skyline views = a fantastic way to spend an afternoon or evening during the holiday season. Read on to find out more about some of these sky high rinks.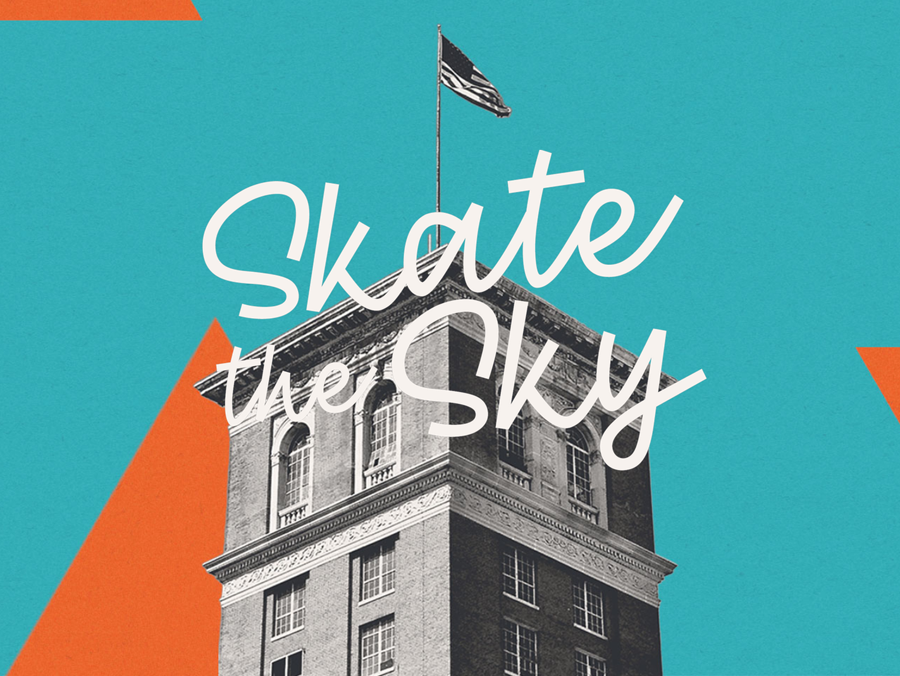 Perched on Ponce, The Roof at Ponce City Market boasts of breathtaking views of Atlanta's skyline. I can absolutely attest to this, as I was married on the PCM rooftop 10 stories up. [What? You didn't think an elf would have a destination wedding away from the North Pole?] Enjoy skating in this winter wonderland that includes seasonal treats, warming drinks such as hot toddies, and festive decor. After you're finished skating, you could walk over to Skyline Park for skee ball and other games or 9 Mile Station, PCM's rooftop beer garden with fire pits and fabulous food.
Skate the Sky
Ponce City Market
675 Ponce de Leon Avenue NE
Atlanta, GA 30308
770.999.1530

Admission: $25 adults, $15 kids [includes admission to Skyline Park]
Skate Rental: Included!
Hours: Varies by day. Click here for details. 21+ after 5pm on Fridays and Saturdays.
The first rooftop ice skating surface in London, Skylight sits atop of a 200-year-old building from which you can see The Shard and The Gherkin. This would be a great spot for a date, as they offer wintery drinks, such as spice espresso martinis, mulled wine, and mulled cider. If that weren't enough, they also have cheese fondue, chocolate fondue, mince pies, and Greek fusion food, including a Christmas burger and halloumi fries. Since admission is free, you could go to Skylight to simply enjoy the views and the food before they close for the season on 13 January 2018.
Skylight
Tobacco Dock – Pennington Street Entrance
Wapping Lane
St. Katharine's & Wapping
London E1W 2SF
+44 20 7680 4001

Admission: FREE!
Skate Rental: £10
Hours: Open Thursday–Sunday. Hours vary by day. Click here for details.

Head to Whole Food Market's flagship store in downtown Austin to skate on the roof between now and 15 January 2018. An Austin holiday tradition for the last 13 years, more than 16,000 folks visit the ice rink each year. If you get hungry or thirsty while skating, grab a drink or snack at the rink-side concession stand. Or you could pop into Whole Foods to do some shopping after getting in some wintery exercise.
Rooftop Plaza
Whole Foods Market Lamar
525 N Lamar Boulevard
Austin, TX 78703
512.542.2200

Admission: $10
Skate Rental: Included!
Hours: 10am–9pm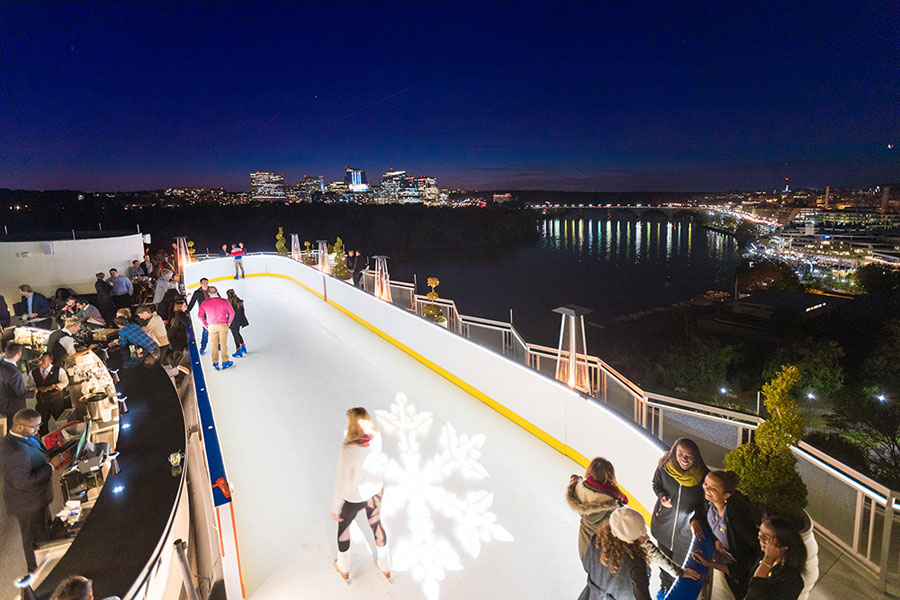 With 360-degree views of the Potomac River, the Key and Arlington bridges, the Washington Monument, and the D.C. skyline, the roof of the Watergate Hotel is a sought-after destination for post-work drinks and date nights. For winter they have added a ice rink, along with warm cocktails like spiked hot chocolate and mulled wine, as well as toasty snacks such as soft pretzels and s'mores. If you want even more of a festive experience, book one of the Watergate's cozy winter igloos.
Top of the Skate
The Watergate Hotel
2650 Virginia Avenue NW
Washington, D.C. 20037
844.617.1972

Admission: FREE!
Skate Rental: $20 adults, $10 kids
Hours: Open Wednesday–Sunday. Hours vary by day. Click here for details.
High above the Las Vegas Strip, The Ice Rink at The Cosmopolitan has everything: 4,200 square feet of real ice, s'mores, fire pits, twinkling lights, festive drinks, hearty food, and light snow showers. What's more, on Mondays, they play holiday movies on their 65-foot digital marquee. Upcoming films include The Santa Clause and The Santa Claus 3: The Escape Clause on the 18th, Mickey's Magical Christmas and How the Grinch Stole Christmas on Christmas Day, and Frozen and The Polar Express on New Year's Day.
The Ice Rink
The Cosmopolitan
3708 Las Vegas Boulevard South
Las Vegas, NV 89109
702.698.7000

Admission: FREE!
Skate Rental: $20 [$10 for local residents and hotel guests Tuesday–Thursday]
Hours: Varies by day. Click here for details.
BMW Ice Rink 354 • Moscow, Russia
Probably because I don't speak Russian, I was unable to find much information about BMW Rink 354, but I just had to share some photos and a video of this rink, as it's on the 86th floor of Moscow City OKO Tower. That's 354 meters up! Offering an unobstructed panorama of Moscow, I'm sure the highest rink in Europe is really neat, but personally, I don't think I could ever skate there because I'm so scared of heights. Check it out!