All Aboard the Polar Express!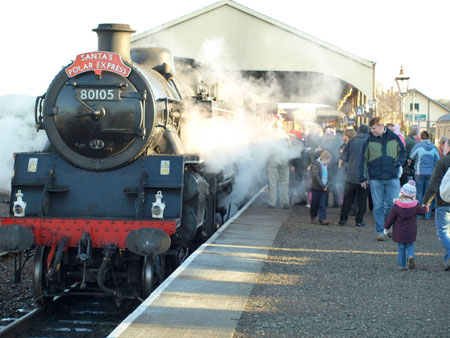 Experience the wonder and excitement of Christmas when you board the Polar Express! The whole family can participate in this magical holiday activity at select train stations across America.
Children are encouraged to dress in their pajamas just like the kids in the book, The Polar Express, by Chris Van Allsburg. Aboard the train, you'll hear a reading of that famous book as you enjoy yummy cookies and cups of hot cocoa. You'll also get to see Santa—who will give each child a special souvenir, a silver bell.
The round-trip ride to the North Pole generally lasts around 60–120 minutes, but varies by train line. See a list of participating railroad stations below. For a comprehensive list of Polar Express train rides, click here. Don't wait too long to get your tickets, as they sell out quickly.

Passengers on this train can expect lively entertainment from Santa's elves and chefs. Remember to bring your camera, and come prepared to sing along with classic holiday songs.
Williams Depot & Ticket Counter
233 N. Grand Canyon Blvd.
Williams, AZ 86046
928-635-4253
On this train ride, passengers in the first class car will be able to spend time with Mrs. Claus! If you're not in first class, don't worry because Santa will meet each family on the return trip.
Utica Union Station
321 Main Street
Utica, NY 13501
800-819-2291

The vintage train cars of this railway are festooned with holiday decorations, providing a nice backdrop for memorable pictures. As you snuggle into your seat, make sure you have your ticket in hand because the conductor will be coming by to punch your ticket. Oh, and one other thing—don't be alarmed if you see the Hobo, as he has been known to appear from time to time.
Saratoga Springs Railway Station
26 Station Lane
Saratoga Springs, NY 12866
877-726-7245
Edaville USA has 2 different Polar Express train rides: one in Hopedale and one in Carver. Please take note of these two locations when purchasing your tickets.
Edaville USA
5 Pine Street
Carver, MA 02330
508-866-8190
The Polar Express train ride at this station is already sold out! Because it's so popular, you may want to go ahead and purchase your tickets for 2015.
French Lick Scenic Railway
8594 West State Road 56
French Lick, IN 47432
800-748-7246
Looking for a Polar Express experience that isn't listed above? Click here for a more comprehensive list of participating train lines.