If you recall my posts about Christmas tree lightings and holiday boat parades, you may have gathered that I'm quite fond of Christmas light displays. Simply looking at some glowing, twinkling lights gets me feeling the warm fuzzies of Christmas. I also love all things nature: trees, plants, flowers, you name it. So, what do you get when you mash these two interests together? A gorgeous, glowing garden extravaganza! If you're like me, you'll enjoy immersing yourself in a spectacular holiday light experience at a botanical garden this winter.
Garden Lights have returned to the Atlanta Botanical Garden for the sixth year. Among the various light displays, you'll enjoy walking through the Tunnel of Light and watching the Orchestral Orbs. If you plan on visiting the garden with your kids, nieces, or nephews, make sure you check out the model train. The holiday light exhibit will be on display until January 7, 2017.
Click here for tickets and here for transportation info for the Atlanta Botanical Garden.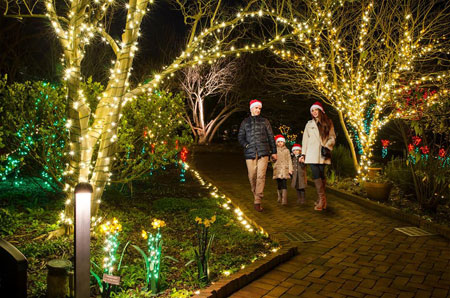 Located just outside of Charlotte in Belmont, the plethora of holiday happenings at the Daniel Stowe Botanical Garden will give everyone in your family a boost of Christmas cheer. More than 600,000 lights illuminate the gorgeous grounds, transforming trees and fountains into a twinkling wonderland. Some other festive activities include horse-drawn carriage rides, marshmallow roasting, live holiday music, and a visit with Santa and Mrs. Claus.
Click here for tickets and here to see the live music and food truck schedule at the Daniel Stowe Botanical Garden.

If you're in Wilmington, DE or Philadelphia, celebrate the holidays at Longwood Gardens with enjoyable activities both indoors and outside. As you walk the grounds, your senses will be engulfed with sights and sounds of the season, such as twinkling lights illuminating the night sky, songs of strolling carolers filling the air, and tunes from daily organ performances. If you start feel chilly, simply stop by a fire pit to warm up!
Click here for tickets to Longwood Gardens.

Garden Glow has decked out the Missouri Botanical Garden with millions of Christmas lights that will be on display until January 1, 2017. As you stroll through the garden, there are several spots for you to stop and strike a pose with your loved ones for a festive photo. To get a glimpse of the dazzling lights, watch the video above.
Click here for tickets to Garden Glow.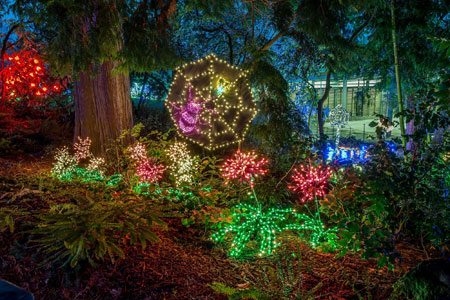 As the holidays approach every year, Bellevue Botanical Garden transforms into a colorful and magical wonderland. Critters are hidden throughout the grounds of this garden, so children will have fun spotting them among the lights. (For example, see Charlotte's Web in the image above.) Garden d'Lights is on display until December 31, so make plans to visit before it closes for the season.
Click here for tickets and here for transportation info for Garden d'Lights.

Posted by Mary on
Category: Events & Activities • Tags: Fun for Kids