Christmas Photos for Your Pets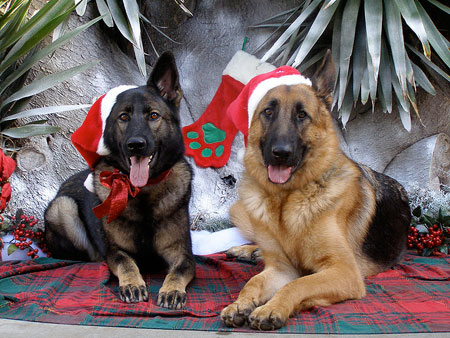 Have your pets been naughty or nice this year? Now is their chance to whisper in Santa's ear. Or maybe they'll just give Santa a big slobbery kiss. 😉 In Petco stores nationwide, your furry family members can have their photo taken with Santa. If there isn't a Petco near you, contact your local humane society or animal shelter. Many humane societies have an event where Santa will take a picture with pets. For more holiday fun, you can get a free digital photo from PetSmart (details below).
So pull out your Christmas sweaters, scarves, hats, or other festive accessories and make plans to attend one of these photo events!
Photos with Santa at Petco

On Saturday, December 6th or 13th, head into your local Petco between 1–4pm to have your pet's photo taken with Santa. You'll get a 4" x 6" photo for just $9.95. You'll be happy to know that 100% of your photo purchase will help homeless animals—now that's money well spent!
Click here to find a Petco store near you.
Paws for the Camera at PetSmart
Get a digital photo of you with your furry friend(s) at PetSmart for free—that's right, FREE! Now, to be clear, Santa will not be there, but you can still have a nice, festive photo taken. The image will be emailed to you, so you can print as many as you like or even use it for your Christmas cards! This in-store photo event will take place on December 6–7th and 13–14th from 12–4pm.
Click here to find a PetSmart near you.
Other Resources
Your local humane society – Contact your local animal shelter to find out if they are having a "photos with Santa" event.
Your local shopping mall – Sometimes the Santa photo booth at the mall has designated times when pets are welcome to take photos with Santa.