Free Wallpaper: Happy New Year!
Now that Christmas is over, all of us up here at the North Pole are celebrating the new year by taking a hard-earned break! We're snuggled in our cottages watching movies, drinking hot cocoa with LOTS of extra marshmallows, and enjoying the snowy scene outside. To help your new year start off on the right foot hoof, here's a downloadable wallpaper featuring Raymond the reindeer!
To download the free wallpaper, click on one of the sizes above and then right-click (Windows) or Control+click (Mac) the image and choose "Save Image As…"
Enjoy this wintery wallpaper from Northpole.com!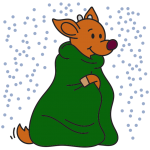 P.S. Do you love Raymond as much as we do? Then download the Raymond the Reindeer Stickers for iMessage today!