Have Yourself A Cheesy Little Christmas
When planning my holiday party each year, I have some standard party dishes that are my go-to recipes, such as a variety of quinoa salads, edamame dip or hummus, stuffed mushrooms, crostini topped with veggies or fruit, and of course some type of dessert. Since folks are nibbling on food for several hours at my parties, I like to balance these lighter, mostly veggie-centric dishes with a lovely and hearty cheese board.
Not only is the cheese board always popular with my friends, but I just adore cheese! I enjoy trying new fromage, and a cheese board is a fun way for you and your guests to sample new cheeses without having to purchase a whole big piece or wheel for only yourself. Plus—and maybe I'm just a cheese nerd—it's fun to experience and discuss new cheeses with loved ones.
The Cheese
To select the cheeses for my board, I usually stick to 3 or 4 farmstead or artisan cheeses, and I try to have a variety of flavours and textures. If you're serving a few options, it's a general rule of thumb to have one soft, one semi-hard, and one aged cheese. If your crowd enjoys the veined stuff, you can also include a blue cheese. When picking your fromage, you can also have diversity by selecting cheeses made from different milks [cow, goat, sheep]. And if making the cheese selection yourself seems overwhelming, talk to your local cheesemonger! They are very knowledgeable and would be more than happy to help you choose some delicious and interesting cheeses.
Here are a few cheeses I've been savouring recently to give you some ideas to get started: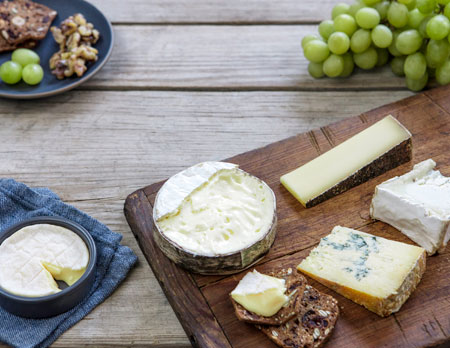 Photo: Whole Foods
If you aren't used to purchasing farmstead or artisan cheeses, you might have a little bit of sticker shock at first since nicer cheeses are pricier than your regular ol' supermarket brand cheese. But trust me, they're worth the higher price! If you're wanting to venture into the world of artisan cheese, head to Whole Foods between now and 24 December, as they are currently celebrating 12 Days of Cheese. [That's my kind of holiday!] During this event, a different artisan cheese will be half-off each day. Today's fromage is Pheasant Ridge Reserve from Uplands Cheese Company, about which Whole Foods says: "The only three-time winner of the American Cheese Society Best of Show, this cheese has a sweet, broth-like flavor with notes of butterscotch and fruit." Yum! Tomorrow's cheese is Le Gruyère, and Monday's is Cypress Grove Chevre's Truffle Tremor, so Whole Foods is highlighting quite a range of delicious cheeses. To see the full list, read descriptions of the different cheeses, and find beer/wine pairing notes, see here.
The Board
There are loads of different options for the actual board itself, from a marble slab to a wooden ampersand to even a slice of acacia. However, my favourite platter for serving cheese is my slate board from Brooklyn Slate. A unique serving dish, the slab of slate is as striking as it is beautiful. Plus, you can write the cheese names or festive messages on the board with the included soapstone pencil.
Cheese Board Arrangement & Styling
Once you've selected your yummy cheeses, you'll need to lay out your actual board. For some tips on how to arrange and style a beautiful cheese board, check out this great video from Bon Appétit:
The Accompaniments
The video above gives some good ideas for accompaniments to include on your cheese board, and here are a few of my favourites:
Dried fruit, such as apricots or figs
Fresh fruit, such as sliced apples, sliced pears, or grapes
Membrillo [quince paste]
Local honey
Honeycomb [Try a small piece with spicy cheese and a slice of green apple—divine!]
Marcona almonds
Mixed olives, such as Kalamata, Castelvetrano, and Cerignola
Cornichons
Assorted crackers, crostini, or sliced baguette
You'll want to base your accompaniments on what cheeses you're featuring, so perhaps membrillo and Marcona almonds with manchego or cornichons and slices of baguette with Gruyère. And don't get upset if a guest uses the "wrong" accompaniment with a cheese—they're just experimenting and could come up with a delicious new flavour combination!
The Knives
This wonderful cheese knife guide from Castello is an easy reference for which type of knife you should use with which cheese. For even more information, see here.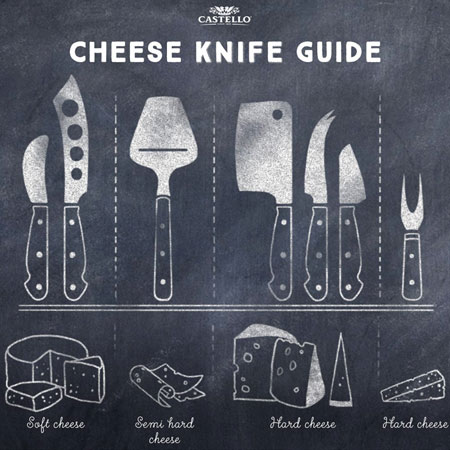 Cheese knife guide from Castello
The Wrap Up
It's rare, but if you have any cheese left over after your party, I recommended wrapping each cheese separately in cheese storage paper or placing each cheese in a cheese storage bag from Formaticum. The paper used for these items is specifically designed for storing fromage, and they allow cheese to breathe while at the same time retaining humidity to keep the cheese from drying out.
What is your favourite cheese? If you have a recommendation, please let me know in the comments, as I'm always looking for new cheeses to try!
Here's to a very merry, cheese-filled Christmas 😀