Holiday Kickstarter Campaigns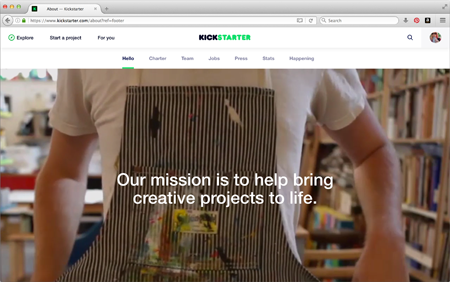 All of us elves up here at the North Pole really enjoy making things both at work and in our spare time. As such, it shouldn't be a surprise that we really love learning about creative projects from folks all around the world—whether it's yummy food, novel products, or unique holiday cards. So, it's time once again this year to highlight some fabulous festive projects that are currently seeking funding on Kickstarter, a website whose mission is "to help bring creative projects to life."
If you and your family cut your own Christmas tree each year, the Christmas TreeTransporter will help you easily and securely haul the tree on top of your car. This reusable carrier protects the roof of your car from scratches and sap, plus it makes the tree easy to carry.
Learn more about the Christmas TreeTransporter Kickstarter campaign here.
Countdown to Christmas with a box of twelve gorgeous, artisanal chocolates from Salt Confectionery. Each box contains a dozen handmade chocolate pyramids made from premium Belgium white or dark chocolate and includes flavours such as strawberry, matcha, Oreo, and almond macadamia. Yum!
If you love chocolate as much as we elves do, back this campaign today!
The ToyTree is a Christmas tree designed specifically for babies and toddlers. This expandable tree is a safe, fun, and educational toy that includes lights, music, and toys, so it would be perfect for the home, Sunday school classroom, or daycare.
Get your own ToyTree by donating to this campaign.
Handmade using a variety of woods—such as zebrano, oak, ash, and alder—these holiday cards feature accents of beeswax, copper, and watercolour. With 3D and movable elements, these cards are small works of art.
Back this artsy Kickstarter project here.
Looking for a modern take on a Christmas tree? Then check out the One for One Christmas EcoTree from MIO, which has a fun and unique tool-free, hardware-free, modular design. Made from recycled, FSC-certified cardboard, the EcoTree is easy to assemble and store. What's more, for every tree sold, MIO will donate a tree to a family in need via Toys for Tots.
There's still time to get an EcoTree for this holiday season, so back this campaign today.